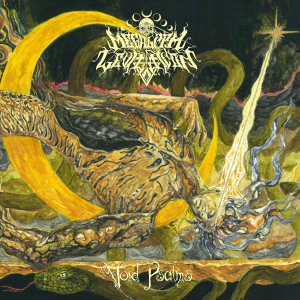 In a very near future, Aesthetic Death and Megalith Levitation will officially release the new album Obscure Fire (of course you might expect a review on that recording in some future), but this review will deal with the former full-length, Void Psalms, which was (and still is, of course) the second full-album by Russia's Megalith Levitation. It was actually released almost a year and a half ago, but then again: so what? Great material will always deserve (my) attention and promotion.
The band was formed in 2016, yet it took until the second half of 2019 before this trio did release their debut Acid Doom Rites (initially digitally self-released, yet soon after co-released physically by Hymns Of Apocalypse, which is, as far as I know, not active anymore). More recently, vocalist and guitar player SAA ('sermons and fuzzmagic'), drummer PAN ('skullhammers') and bassist KKV ('thunderbass') recorded four lengthy (new) tracks under the Void Psalms moniker; the four of them clocking more than fifty-three minutes, by the way. The whole got mixed and mastered by Dekonstruktor's Denis 'Memphis' Petrov. The physical edition is a three-folded digipack compact-disc, which includes the lyrics, and which comes with very psychedelic, mind-raping artwork by Aleksey 'GodLikeIcons' Sivitsky (whom you might recognize from his visual assistance for e.g. Remote, Dig Me No Grave, Panopticon Death, Regicide or Cyanide Grenade, amongst others.
Everything reeks of hazy pleasure. …as from the opening riff… …the whole of the time…
This goes for the visual artwork, yet those trusted with this band will surely recognize the fuzzy approach by this trio. What these guys perform is intoxicating – and intoxicated – Drone Doom Stoner Sludge, drenched in clouds sporae (spores) and a nebula of THC. It's ultimately slow-paced stuff, sluggish and ponderous, build around three pillars: riffs, voices and the rhythm section. The vocals are of the evocative, mesmerizing kind. SAA's voice is unclean (pay attention: it has nothing to do with screams or grunts or whatsoever), ritualistic and adjuring, with long-stretched invocations and obtesting reveries. The timbre has a monotonous tone, which fits to the down-earthed character of the songs.
Seen from instrumental point of listen, one can consider this stuff rather sludgy than melodious, despite the atmospheric harmonies. The basement gets build on layers of vigorous lead-guitar riffs and deep-tuned bass melodies, injected by hypnotic leads and occult-laden textures. Together with the marvellous drum-patterns, the total experience induces a soporific state-of-mind (not as in 'dull', yet like in 'ravishing'), combining bleakness with enrichment, and subconscious hypnagogia with a magnified responsiveness. Trance, meditation, super-consciousness and depersonalisation; in a ceremonial sense, Void Psalms act like a sermon to guide the listener through shamanistic, and somehow dystopian, revelations. The vapourish surrounding clothes the whole in a psychedelic mist; especially within the last track (a 'shorter' one, yet also the most 'varying' one), Last Vision (with saxophone !), that sense of self-mutilating satisfaction reaches its ecstasy.
For fans of: Zaum, Bongripper, Saturnalia Temple, Conan, Coltsblood, Dekonstruktor, Electric Wizard, or even Esoteric and Sleep …
https://www.aestheticdeath.com/releases.php?mode=singleitem&albumid=5205
https://aestheticdeath.bandcamp.com/album/void-psalms
https://megalithlevitation.bandcamp.com/album/void-psalms
https://noname666.bandcamp.com/
https://www.concreteweb.be/reviews/megalith-levitation-dekonstruktor