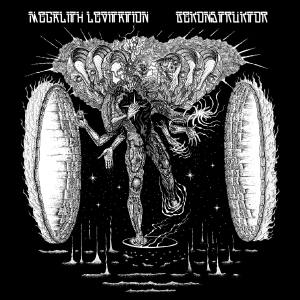 Album Title:
Megalith Levitation / Dekonstruktor
Once again Aesthetic Death come up with a psychedelic thing, but once more it is not just 'another psychotropic event' going on, yet another unique, open-minded sonic session. This time Stu and his crew focused on the release of a split in between two acts from Russian soil, Megalith Levitation and Dekonstruktor. A small introduction might be of resignation.
But first this. The untitled split-album is like a story about some quest about crossing the abyss. What lurks behind the void? Will bravery, physical strength and developed mental insight suffice to leave the material world behind, will the protagonist dare the run away from the path of spirituality, towards the conscious, through imagination, through knowledge? There is no hurry to meet Death, the final destination, or is there? The answers accompanying the wonder, marvel and uncertainty of this journey will be revealed here…
The trio Megalith Levitation hail from a city not that far away from the border with Kazakhstan (and not that far away either from more 'notorious' places like Yekaterinburg). This trio was formed in 2016 and they had a surprisingly cool album at the end of 2019: Acid Doom Rites (with four extremely lengthy epics), which was independently released initially.
On this split album, the very same line-up from the early years (Saa [sermons & fuzzmagic], KKV [thunderbass], and PAN [skullhammers]) brings forth another nineteen minutes through two acts, Opium Ceremony and Despair. The solemn quest starts in a woozy way, with tribal drums, ceremonial whispers and melodious voices, before getting joined by low-tuned basses at first, and oppressive electric guitar riffing. This is hazy Doom with a ritualistic attitude and a disturbing character. Opener Opium Ceremony surely is a psychotropic piece, veiled in a nebula of post-meditative elegance, like a short soundtrack to trespass the limitations of the conscious existence. It's like the perfect introduction to meet inner desperation (Despair), through a monolithic interplay of a low-tuned string section, slowly-pounding drum patterns and mumbling vocals. FYI: the translated lyrics are taken from the poem Ballad of Nikolay Gumilyov. Anyway, Despair brings Ultra-Doom in an old-schooled vein, ultimately slow, obscure, archaic and raw. It has hints of Sludge, Stoner and Funeral Doom, yet seen from a mostly primal point of view. Despite the length of this track (+ thirteen minutes), there is no boredom at all, because of the intense happening you'll experience, as well as the few fine intermezzos, the few blackened screams, the few Saint Vitus alike leads and the few accelerations going on. Few… Besides the excellent buzzing strings and the yammering voices, the drum-work is stunning from time to time.
Dekonstruktor are next with the two other lullabies, clocking eighteen minutes and something: Beheaded Horizon and the instrumental piece Magma Pulse. This band hails from the capital city of the Russian Federation, Vodka, sorry, Moscow, being active for more than a decade (though it was under another moniker during the earlier years; the three members acted as The Moon Mistress for a couple of years, before changing the moniker into the current one).
The spacy travel continues in a comparable way, with fiercely droning and ultra-slow riffing, monumental drum patterns and, at first, some psychedelic guitar-work. The vocals are 'clean' too right here, little more 'melodious', yet still lamenting somehow, and having a certain echoing effect. There is a certain technical approach within the guitar-play (no, not of the Tech or Prog kind!), resulting in a disturbing magnificence for sure. Indeed, 'disturbing magnificence'. The material confuses; so do my thoughts… The vocal-less ritual Magma Pulse is like the sonorous equivalent of a rabid battering ram (it does exist as from now on), based on ultimately heavy riffs, thunderous drums and a couple of hallucinogenic, even dreamlike solos and some brain-twisting, hawkwindish noise.
Ah, this is Aural Acid Art, with two bands that have a very comparable psylocibin-induced approach (yet an outspoken distinctive execution as well!). If post-prog constructions and modernistic technics are not a necessity, and if you can appreciate everything that reeks of Om, Esoteric, Bong, Ufomammut, Catacombs and Sleep, then you will surely crave for these two Russian acts!
There are 300 physical copies, released in a three-folded digipack, which includes psychedelic, frenzy and mind-twisting black-and-white artwork by GodLikeIkons. That visual side is deeply supportive to the sonic side of this split. The physical release, which clocks just over thirty-seven minutes, also includes three lyrics (in English, by the way) out of four elegies (the last one is an instrumental composition, as mentioned above). Who wants to be / become a Voidonautic? As above, so below… Space on, baby!
https://www.aestheticdeath.com/releases.php?mode=singleitem&albumid=4753
https://megalithlevitation.bandcamp.com/album/megalith-levitation-dekonstruktor
https://dekonstruktor.bandcamp.com/album/megalith-levitation-dekonstruktor
https://www.facebook.com/megalithlevitation
https://www.facebook.com/DEKONSTRUKTORzero