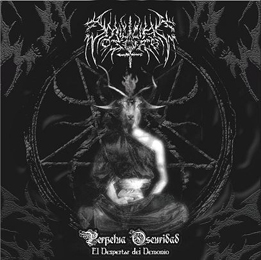 Album Title:
Perpetua Oscuridad: El Despertar Del Demonio
Release Date:
Thursday, January 15, 2015
I do remember the sweet Mexican guys from Milicia Oscura from the Ante Christo album especially, which was released in 2013 via one of the most worthy labels nowadays, Satanath Records. I will, by the way, write a review on this album too in a (very near) future, because it's worth it (ask Satanath's frontman Aleksey if you do not believe me!). That one might deal (once again) with older stuff, but as a matter of fact, this specific review deals with even older material. You know, Perpetua Oscuridad was the name for Milicia Oscura's second demo, originally released in 2010 via Darkzone Productions. In 2012, the band self-released the stuff on EP too, with some new tracks, and then Depressive Illusions Records took care of the re-issue on both CD-R and tape (then we're talking about the year 2013). And I do not really know why, but I certainly do not mind, but now Cold Raw Records re-release this material once again, which offers our rotten worlds another possibility to enjoy this stuff!
In contradiction to the demo, this (compilation?) album does not start with the demonstrational's introduction, yet with a piece that at first (and then I am referring to the first half of this song especially) reminds me a lot to the superior melodies of earlier Desaster. Raw yet epic, La Edad Oscura gives a fine-tuned idea of Milicia Oscura's raison d'être. With Perpetua Oscuridad (taken from that demo), Milicia Oscura go deeper into their core, being the sonic expression of rough-edged, minimal yet highly melodic, rhythmic, conceptual and structured Black Metal with quite some variety in speed. Unfortunately the sound, well, it just sucks. Sounding 'underground' is one thing, sounding 'shitty' is another. Sad, sad but true. But let's not focus on this detail only, for the song writing and performance are more than acceptable. At least: this is the kind of aural morbidity I do just adore. Don't expect modernistic or trendy injections; this material focuses on the essence of traditional epic-styled Black Metal, flirting with Nordic-oriented structures and melodies, and including those 'hollowly distant' bleak voices or epic-styled main riffing. No, it's not renewing at all, but the die-hard fans will not care about that. Why should they anyway. It's like some lost early nineties recording that suddenly found its way to human dimensions, and it might please your infected ear drums. It does caress mine for sure… There is quite some room for melody, of course, which is one of the characteristics for this kind of purity. Melody, epic, harshness and variation (melody and tempo, for example), canalized into persuasion and craftsmanship, these are those elements that are needed to distinct themselves from the grey masses. In Milicia Oscura's case it certainly is part of the game. And what's more, even fine-tuned classical-symphonic-atmospheric intros like the one in Despertar Del Demonio, a very bathorian composition, are nothing but highlights; the reason why people like undersigned know the value of this 'trend'.
So if you get rid of the inferior sound quality (it does, but I think it isn't but normal, influence the subjective score I will give right here), this truly is a more-than-acceptable release. There are better ones within the scene for sure, but lots, lots, lots of worse things too. Seriously, Perpetua Oscuridad: El Despertar Del Demonio is a recommendation!