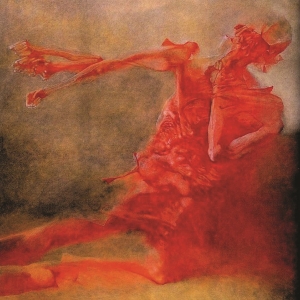 I won't spend my time on introducing both of these solo-outfits. For Moloch you can expect some more reviews in a near future, but recently I wrote (+ updated) some others: Verwüstung, Abstrakter Wald, Somewhere On The Forgotten Paths, Die Isolation, or the split with Voidstar. For more info about this Ukrainian outfit, check these out. When talking about I Shalt Become, I'd like to refer to the review on Louisiana Voodoo, done by (former?) colleague Tony (see update February 1st 2014), and in the 'Archive'-tab (on top, at the right) you can check out a chronicle for Poison (October 17th 2010, courtesy of undersigned).
This split got released on vinyl, with both bands bringing one song on each side. It gets released in, once again, a collaboration in between Depressive Illusions Records and Locust Amber Records, and it's extremely limited to an edition of 100 copies.
Moloch, the best known outfit of Sergiy Gordiuk, bring Wenn Die Sterne Nicht Mehr Scheinen ('when the stars don't shine anymore'), taken from the Horizont album (for which I will write and upload a review very soon, by the way). It combines both angles that Moloch characterise, being integer ambient passages and minimalistic atmospheric Black Metal. The track opens with an old-burzumesque riff, very soon joined by almost fairylike and oriental-ritual female vocals by Lilita Arndt of Embrace Of Hedera-fame – she did some session vocals before too on Moloch material, by the way. It's underground for sure, raw à la Striborg-meet-Burzum, and added by dreamlike synth passages. Sergiy's vocals are or the spoken way (though little 'scared', as well as subtly invocative), or the hysterically screaming way, wretched and painful. It expresses the core of Moloch's excellence, this song!
I Shalt Become, the outfit by Illinois-born S. Holliman, contributes with Dreams From The Wasteland, which is, I guess, a new track. It goes on in the vein of the 'known' material, being an extremely bombastic and symphonic, orchestral, cosmic and operatic interpretation of Black Metal. Limbonic Art, Valar, Skythrone and Profanum joining forces, that would lead to this project. There's a blackened metalized attitude for sure, but actually the main themes are based on orchestral synth passages, overwhelming, cinematic, classical and bombastic, with deep-throated screams adding that Orkish grimness.
So, this is quite an attractive release that will please many dark-brained souls. Unless you're looking for the mainstream easiness, this EP will be like a shining star in your vinyl collection! Give it a try!