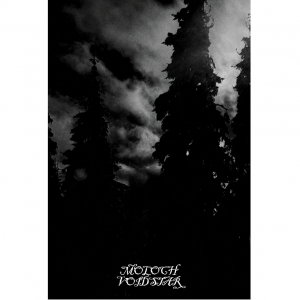 One of the many splits with Ukraine's Moloch is the one with Swiss act Voidstar. Initially their collaboration saw the light in early 2015 via Nocebo Records (digital and vinyl), and Legs Akimbo's sub-label Locust Amber Records did take care of the tape-re-issue, though this one being limited to an edition of fifty two (52) copies only, half of them released on grey cassettes, the other half on brown ones. There are quite some Moloch releases that are reviewed lately (actually, since there are about 666 releases each month, there is quite a big chance to have a review on one of those releases etc…).
Side A consists of two Reel-to-Reel recorded soundscapes done by Mr Fjordsson, done in between 2012 and 2014. This multi-productive outfit can go two directions, being raw underground-sounding Black Metal, or integer Ambient. On this split's case it's the second direction that gets followed. Two rather lengthy pieces this time, Der Ewigkeit Entgegen I and Einsamer Platz Zu Sterben II (resp. 8:11 and 6:29 minutes), standing for fragments of desolate landscapes, icy fields of nothingness and, at the same time, the warm integrity of self-exploration. I know that this might sound somewhat artificial, and it comes in shrill contrast to the natural 'beauty' of this Music, but it's quite fitting. The experience offers us two drawn-out compositions, rather minimalistic and integer, and extremely tranquil and dreamlike. But it lacks of tedium, despite the minimal approach. Loneliness, depression, introversion and dream come together…
The B-side contains three compositions by Swiss act Voidstar, an outfit by Philip Jespersen. I am not sure, but I guess it's the first release by this act, but it doesn't really matter. Voidstar bring three compositions, Avenue De France (almost three minutes of length), Six Months Can Be A Long Time (3:40), and Spiral Depression (clocking over six minutes). Voidstar too are directed to spheres of Ambient Music, but it gets rid of the melancholic atmosphere of Moloch. Actually, in this project's case there's rather a vision of post-cosmic disturbance that characterises these sonic waves of Aural Art. Much more connected to the genres of (Soft) Noise and Drone, the Ambient excerpts of Voidstar dwell within spheres of inter-stellar majesty at the one hand, and little creepy moments of anxiety, confusion and discomfort. The electronic additions aren't but strengthening the ominous atmosphere, but I am quite surprised by the intensity of the suffocating globalism that characterises these three pieces. Actually, it's quite impressive how mature, and how overwhelming this whole experience does sound. Especially by means of the last, and longest pièce d'Art, this excellence gets profiled convincingly.
Conclusion: unless you're allergic to once more Moloch-stuff, you might be thrilled by the finesse of this project, and when talking about the other player, Voidstar, I recommend you to open your mind and let these sounds penetrate your mind with their quasi-ingenious execution and concretisation. Once again, this is a recommendation for the dark-minded souls amongst us…