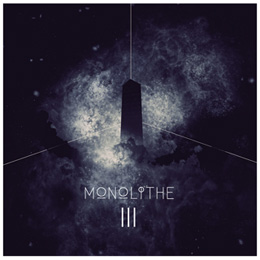 Release Date:
Friday, November 16, 2012
Monolithe are one of France's finest Obscure Doom acts. This band with e.g. Anthemon member Sylvain Bégot, who started this act more than ten years ago, released two full lengths before (in 2003 and 2005; followed by two downloadable minis, respectively in 2007 and early 2012, the so-called Interlude-diptych). This third full length, ingeniously called III, was recorded at Reed Reed Studio (recording & production) and Hybreed Studio (mix & mastering) with Andrew Guillotin (think: Temple Of Baal, Bran Barr, Eibon etc.), and the one-track-album lasts for fifty two minutes.
III goes mainly on in the vein of II, though it seems more cohesive this time. III brings oppressive, icy, mysterious Funeral Doom with floating twin guitar leads, a massive rhythm section, thick, pounding riffs, moody twists and timeless melodies, supported by abyssal keyboard-layers and deep, throaty grunts to reach an atmosphere so dense and suffocative.
Just like I and II, III does not bore, even though it isn't but a single-one track effort. III varies whole the time, in melody, sphere and tempo (the latter balancing in between slow, slower and slowly slowing slow), yet with, as mentioned before, a clear, evident coherence as from the very beginning till the very end. Besides, the interaction in between Funeral Doom, Old School Doom-Death, Dark Ambient and melancholic Doom is nicely balanced, without exaggeration, nor frustration or desperation to cheaply copy any band / projects worth mentioning.
An own-faced mixture of Night Must Fall, My Dying Bride, Ahab, Mordor, Evoken, Beyond Black Void and Blut Aus Nord…