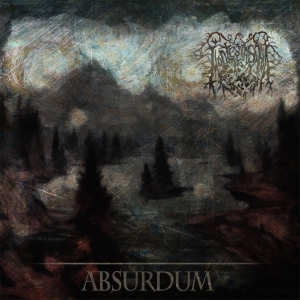 I was limitedly pleased with Montes Insania's debut album Song From Beyond A Gray Veil, this duo's debut for Satanath Records (Russia's Andrey 'Andrew T.' Tvorogov and Ukrainian Yevgeniy 'Zhenya Marduk'; both of them have several other projects, and work together under the name Poezd Rodina aka Поезд Родина too; check out April 29th's update for the review on their album Белая даль aka Belaya Dal', or prepare for the upcoming review on this band's contribution to the Frozen Tranquility-split with Funeral Tears). Shortly after that release (early 2014), the band digitally and independently released the EP I Am Empty, which I hadn't listened to (yet), and then Symbol Of Domination Productions, a division of Satanath Records, did show up with the second full length, which, as bonus, includes that EP. …with gratitude… This newest recording gets realized in co-operation with More Hate Productions (both Satanath and More Hate did work together before), and it lasts for eighty minutes (that bonus-EP included).
Absurdum apparently is dedicated to French philosophers and writers Albert Camus and Jean-Paul Sartre. That's quite remarkable, especially for a band from the other side of European soil. Interesting though…
From sonic point of view, Montes Insania aren't the most easily digestible act around. The essence of their Black Metal is strongly based on the traditions of the old school, especially referring to the Second Wave trend. It does not just mean 'another' Nordic-styled entity, for this duo stands in strong contrast with the Scandinavian colleagues. Remarkable is the extremely progressive approach, despite the classic basic structures, and the first one (the modernized execution) is much more prominent than before. It goes for the dissonant guitar riffs and leads especially, yet the jazzy drum patterns and funky bass lines, plus the distinctive intermezzos (based on synth or piano (often reminding me to the piano pieces of Lacrimosa's nineties' era), cf. a track like the title song, or more spacy, like in At Final Was Nothing), strengthen that experimental-modern approach too. I think it is a not-that-logical step forward, but probably not avoidable.
There is quite some variation on Absurdum, making the result even less accessible and conventional. It has become something like an album to grow into, because the listener, even the attentive one, will need several listens before grabbing the whole concept. I think there are quite some highlights, moments of joy and respect, but one cannot deny, or ignore, the mental heaviness of the experimental side of this effort (cf. the clean vocals, for example, or the injection from elements from Groove, Jazz, Prog, Punk, Crust and Psychedelica, amongst others).
I'd like to come back to the bonus tracks too, taken from the EP I Am Empty. This material comes much closer to the debut's than to the stuff on the sophomore full length. The band did never eschew to trespass narrow-minded borders, but on this recording they kept the initial focus on melody and structure rather than ebbing away in semi-cacophonous experimentalism. Yeah, whatever…