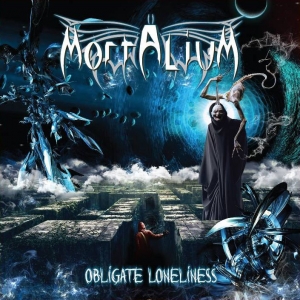 Release Date:
Friday, February 27, 2015
Hailing from the city of Kharkiv, Ukraine, Mortalium did debut in very early 2011 with the EP On The Broken Wings (though it was available before in digital format too). Metal Renaissance did release this band's debut full length in Spring 2013 (with one of the most fabulous covers I know!), and now, with a slightly adapted line-up, Mortalium return with the sophomore full length, Obligate Loneliness. It gets released via Wolfshade Records, home to many Goth / Dark Metal oriented bands.
And indeed, completely in the vein of the Wolfshade Records label, Mortalium bring more than fifty minutes of so-called 'female fronted' (I get nauseous from that description) Gothic Metal. In general it contains all clichés that characterise this scene: the clean melodic and classic-skilled female vocals (not of the operatic kind in this case) (and including some whispers, yells, spoken words, chants, whatever), the melodious riffs, the symphonic synth lines, the violin and piano interludes, the emotional guitar solos, the additional grunts, the electronic additions, the pounding rhythm section and the well-polished sound quality. Even the artwork, the lyrics, and the members' presence are totally adapted to the whole. Of course there are the necessary hints of Pop ballad material too, but they are not too present at all (thank you for that). A piece like Ode To Deformity then again, is a Symphonic Doom-Death epic with grunts and a melancholic, somewhat funereal atmosphere. Those grunts reappear in some other tracks too, as mentioned before. The lengthy piece Ocean Of Depression also balances on the edge of Doom Metal. Quite surprising is the band's choice for a cover track, being Eleanor Rigby by The Beatles. Sometimes the band goes in overdrive; I Hate You All, for example, is quite nasty and naughty, and even though I do not think that this is a great track, I like it that Mortalium appears to be somewhat open-minded. The open-mindedness goes as well for the closing track, the instrumental Splinters Of Approaching Nightmares, which is an energetic and joyful piece of Progressive Metal.
I mentioned the well-polished sound. Actually, the production (Dark Essence Studio) is almost clinically clean. For this kind of Metal it is not irritating, because Symphonic / Gothic Metal is allergic to an underground sound.