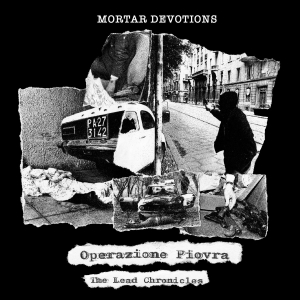 Album Title:
Operazione Piovra – The Lead Chronicles
Release Date:
Friday, February 28, 2020
Nona Et Decima, also known as IX&X, are a duo from Italy, consisting of Manuele Frau and Nicholas Pucciarelli. Under that name, they create an eccentric mixture of Electro, Noise and Cold Wave. Recently, they joined forces with some Огни, the alter ego of musician, DJ and producer Aleksey Tsernjavski aka Apache Lifeforms (also known from To Feed A Neon Forest or Top Jugend 90, if I am not mistaken). This trio started a new project, based in Finland's capital Helsinki (I think Aleksey hails from out there), under the moniker of Mortar Devotions. As Mortar Devotions, Manuele (drum machines, post-production, sound engineering), Nicholas (guitar loops and effects) and Aleksey (synths, noise machine) composed and recorded an album called Operazione Piovra – The Lead Chronicles, which has nothing to do with James Bond, but which is actually based on the bloody cat-and-mouse games in between the Italian government and the mighty mafia clans out there, and the political and social war during the 'lead era' (seventies / eighties of last century).
This five-track album (which clocks over forty minutes) was written and recorded in Helsinki (Dungeon Intel Studio) during Summer and Autumn 2019, and released at the end of February 2020 via Eighth Tower Records, a division of Unexplained Sounds Group, run by Sonologyst's Raffaele. Of course there is a digital edition, as well as a compact disc version. The latter, however, is strictly limited, and there aren't but a few copies left, apparently (so: hurry up!). The latter is printed as a four-panel digipack, including four confronting pictures (black-and-white) that refer to that turbulent period.
Mortar Devotions' approach is an unorthodox mixture of different yet related genres, build up as the sonic accompaniment for some story, as if it were a soundtrack to a movie that deals with higher mentioned concept. All five compositions (called Part I up to Part V) sounds quite different from each-other, yet still there is a certain coherence in between all of them, resulting in a rich, fruitful listening adventure. Without dissecting each single couple of seconds from each track, I will focus on the aural essence of all of them.
Part I brings horrifying synth waves, pounding electronic beats, industrialized noises and an impressive amount of additional sound sequences, samples and noise manipulations. The main 'melody' and basic structure is quite repetitive, and therefor somehow hypnotic, even intoxicating and asphyxiating. But in a modest way, the composition 'grows', building up towards explosive moments of noise terrorism, heavily droning and mentally devastating. This first chapter is an attractive opener for sure.
The second piece, indeed, called Part II, starts floating and moony, yet quite soon different beats and percussion join. The main beat, by the way, is quite expressive and militantly represented, going well with the dreamlike melodies. The track has a very energetic character, and at the same time it withholds an elegant atmosphere both obscure and enlightened. In a seductive way, this Deep Ambient / Horror Drone piece is an example of electronic majesty! What an energy…
As from Part III on, the intensity seems to fade away. I said 'the energy', not the obscure approach. Part III has a very dense, almost suffocative character, mysterious as well as uncomfortable. Different layers of keyboard manipulation, additional samples / Field Recordings and electronic sequences grow out to a Horror-injected adventure, claustrophobic in essence, paralysing in nature too. Here too, the continuous evolution, subtle yet confident, is a surplus. The final moments, by the way, turn intensively towards harsher levels of Experimental Noise, still including the greatness of dark-edged Drone / Ambient, smoothly balanced and elegantly organic.
With Part IV, Mortar Devotion initially delves deep into spheres of eccentric Electroacoustic experimentation. Soon some entrancing melody joins, as well as smooth'n'frenzy (!) samples and sounds. This piece withholds a breath-taking tension, caused by the repetitive structures and dense spheres, and the bleak repetition works transcendentally hypnotic too. Improvisation and synergy are gathered, hand in hand, and this decadent equilibrium results in a soundscape for destructive forces.
But with the final track, Part V, the story climbs to its peak (or is it: descends to its deepest abyss). Once again based on a repetitive structure, and injected by different noises and samples, Part V seems to crawl out of a pit of dingy mud, decorated with pearls and diamonds. This cinematic adventure acts like the symbolic sherry on top of the cake, with electronic and post-industrialised noises that remind me of firework to celebrate conquest, or victory with no prisoners / enemies left alive. Things turn nastier, and oh so obscure and asphyxiating, towards the end, as if this soundtrack for battle and glory has come to its mostly bloody end.
Operazione Piovra – The Lead Chronicles is an unusual recording (and therefore, evidently, fitting perfectly to the roster of one of Signore Pezzella's labels, of course), with elements from Electronic Music, Noise, Dark Ambient, Electroacoustic, Experimental and Drone, brought in a so-called cinematic package, and aiming for a well-balanced symbiosis of doomed obscurity, atmospheric elegance, militant ambience and post-apocalyptic harshness. The combination of repetitive elements and permanently evolving excerpts and elements is a surplus, even-though risky and daring (but it works!).
https://eighthtowerrecords.bandcamp.com/album/operazione-piovra-the-lead-chronicles
https://www.facebook.com/mortardevotions/