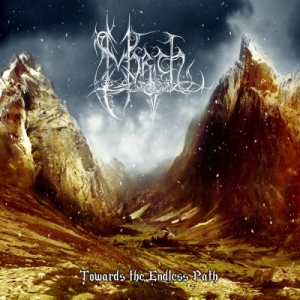 Release Date:
Monday, December 14, 2015
Morth is a one-man army formed in the Bulgarian city of Sandanski, in the far South-West of the country, close to the Greek and Macedonian borders. The project was born almost a decade and a half ago by Georgi 'Erilyne' Georgiev, but the guy moved over to North America in mean time. This guy is / was also involved with bands and projects such as Raggradahr, Exile, 88, Aryan Art (as permanent session musician) or Aeonless, amongst several others (note: on December 24th 2015 I uploaded a review I did for Aeonless' fabulous Underearth Horizons album; a top-release for sure, and on January 24th 2015 we published Raggradahr's Oris, both of them released via e.g. mighty Vacula).
Under the Morth banner, not that much happened in the past, despite the many years of existence. In Summer 2014 there was the demonstrational recording Ocean Underground, which was released via Georgi's own label Acclaim Records (which did relocate to the U.S. too, evidently), and the very same label, in a partnership with Symbol Of Domination Productions, is now to release the debut full length album, called Toward The Endless Path. The album is limited to an edition of 500 copies, and it lasts for sixty-five (!) minutes (six titles). And before going deeper into the aural side of Toward The Endless Path, I'd like to refer to the magic and mysterious artwork – which actually shows a glimpse of the sonic content of the album!
The album brings a highly melodious and atmospheric form of Black Metal. The atmospheric elements are mainly brought through the soft synth lines, who play a role especially at the background. These keyboards are permanently present, yet never taking over the lead (with exception, evidently, for some intros, outros and intermezzi). That lead is courtesy of the multi-lined twin guitar melodies. Because of these prominent and firmly present guitar lines, everything gets a certain epic touch, referring to many other projects Erilyne is involved with. All this gets strengthened by a supportive rhythm section: melodic rhythm guitars (sometimes a not-that-discordant counterbalance to the main leads), a dense bass guitar (unfortunately too much at the background mix-wise), and non-adventurous yet nicely-following drum structures and patterns. And on top of it, I think the vocals are top-notch. Erilyne's screams are of a thundering-rolling kind, raspy and hoarse, but truly bone-chilling.
The lengthy compositions never 'explode', and this goes for two things. Firstly I mean with 'never explode' that the tempo maintains mid-tempo for about the whole of the time. There is a certain level of energy going on, but that hasn't to do with blasting eruptions. To be honest, I do miss some more variation in speed, especially seen the long duration of each piece on Toward The Endless Path. Secondly I am afraid that there are not exactly fabulous memorable excerpts on the album. In general, the whole journey slowly continues, without leaving the listener (in this case: me) blown away…
But… This might seem more negative than I exactly think. Despite a certain lack of suspense, this album surely stands out within this specific sub-genre. Atmospheric Black Metal often turns into a level of semi-pathetic melancholy. That's not the case right here. Seen the length of the hymns, you never get the feeling that it lasts too long, you never fade away into inevitable boredom.
Once in a while I have the impression that Morth try to seek inspiration by Austrian duo Summoning. Many projects try to do so – some succeed, many fail. Morth does not exactly reach that level, but then again they do not sound like a Summoning-clone at all. It's just a source of inspiration, to my opinion, created to inject the own-faced identity of the project. That's the way it's supposed to be, and in Morth's case that's a rather successful formula.