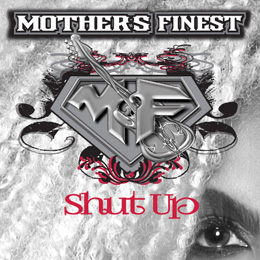 Release Date:
Friday, December 12, 2014
Mother's Finest had their peak already in the 70's. In 1977 the band released their hit "Baby love" followed by a few more longplayers. The last release was 'Meta-Funk'n-Physical'. They have been pioneers in combining funk ryhthms with rock guitars; years before bands like Living Colors and Mordred picked up this crossover again in the 80's and 90's.
The current line-up of Mother's Finest still includes the founding members 'Joyce Kennedy', 'Glenn Murdock',' Wyzard and Moses Mo'. With 'John Hayes' and 'Dion Murdock' the band also integrated two new band mates since they joined in 1989.
Beginning of December the legendary band released their first new song in 11 years. The name is 'Shut up' and it is a pretty cool grooving tune. It starts a bit restrained before it shows its full potential in the chorus. The single is the first sign of life of the band and an appetizer for the new album 'Goody 2 shoes & the filthy beast'. Release date for the new record is spring 2015.