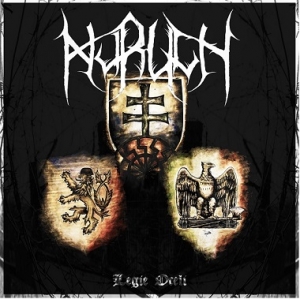 Release Date:
Thursday, February 28, 2019
Muruth was formed in 2008 by a guy from Slovakia, known as von Ulfhednir. That very same year, a short demonstrational recording was released digitally (with assistance of a session singer), but then things turned into silence. I have no idea whether the project went on hiatus, broke up, whatever, but it does not matter, for string-wizard von Ulfhednir recruited two musicians in 2018, being Czechian vocalist Kat (think: Poprava or Popravčí Vrch) and Italian drummer Ahrin (known from e.g. Devotion Omega, Abhor, Von Hexe, Virus Of Koch or Xeper). So, evolving from a lifeless solo-project into an international band, Muruth now paves its way out of oblivion. This collaboration led to the recording of Legie Oceli, and after signing to Poland's finest Lower Silesian Stronghold, that album got pressed in an edition of 500 copies. The result is a 'regular' jewel case compact disc with a four-page booklet, including the lyrics of two lullabies (in the band's mother tongue) and specific yet interesting artwork / layout.
Legie Oceli has a total running time of nearly twenty-seven minutes, so the discussion might be: is it a full-length or an EP. But you know: f*ck it!
What counts is the content, the sonic side of the story. And believe me: it is not the sunny side of some story, yet a mean, foul one. It is a hybrid of epic Black Metal with elements from Sludge and Morbid Death Metal. With a monstrous energy, this material strikes hard and merciless. Quite characteristic is the string section. At the one hand you have those Nordic-sounding leads, with a melancholic and warlike timbre. For some reason, these ones let me dream away to the glorious days of the legendary Grieghallen Studio. Both the specific melodic approach and the production remind me of this grandiose past. In contrast, there are guitar riffings that act in an opposite way: harsh, morbid, crushing, thunderous and thrashing in nature, these guitar riffs are much more 'universal' than those Nordic-styled ones. But in some incredible way, both guitar approaches go well quite organically.
The rhythm section is extremely powerful, with blasting drum salvos and energetic bass lines. Seen the rough yet acceptable sound quality, these elements aren't purely 'at the background', yet fulfilling a prominent role in this story. Seen the recruitment of a drummer, I think the drums are played live, yet once in a while I have some programmed feeling, for what it's worth. Fine is the interplay in between all instruments, cohesive and naturally sounding in both fast and slower excerpts. When it comes to the latter, the tempo, I cannot be but positive, for it gives the whole venture a touch of provocative elegancy. Most of the time, everything balances in between up-tempo to energetically power-driven, but more than once the whole decelerates. Yet the slower passages too are so 'huge', 'full' in sound, in body, in soul. It's even heroic and victorious, for the craft never fades away.
The voice of Kat is rather 'deadly' than 'blackened', yet seen the depth and, especially, the sulphuric brutality, it does fit completely to this slaughterous album. Besides, since the guitar lines do have a specific sludgy tang, this kind of grunt surely fits, empowering the message of vengeance, victory and disgust.
Additional are some semi-acoustic guitars and the addition of samples (warlike samples, can you imagine), limited in use yet partaken at the right time. It's the use of those subtle details within a convincing framework that makes the difference, as well as the cool song-writing and the crafted execution. And okay, Muruth do not reinvent the wheel, nor will they win the Nobel Prize for inventiveness. But within a scene that lately lacks of convincing acts, this one absorbs attention. This is Black War Death Metal with pride and persuasion!