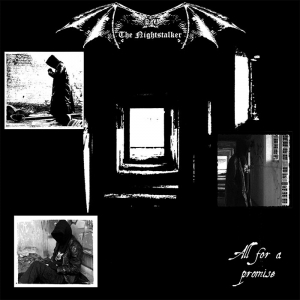 Wolfshade Records are a (small) label from the city of Rivne, in the North-West of Ukraine (not that far away from the borders with Belarus and Poland), known for releases for bands such as Tyrania, Sea Of Despair, Ethir Anduin, Fabiant, Mettadone, Poezd Rodina or Mortalium. I did write a review for all of them in mean time, especially in 2015 (with exception of Mettadone; this review will follow soon): June 8th 2015 for Pallid Muse (Tyrania), Mоре Отчaяния (Sea Of Despair, December 25th 2015), Mortalium's Obligate Loneliness (posted on March 26th 2016), Belaya Dal' (Поезд Родина; see update April 29th 2015), Fabiant's Death Is Not The End (published April 10th 2016), or I Magen Av Svart Kaos by Ethir Anduin (uploaded on April 29th 2015). There were two releases for Belgian act The Nightstalker as well, being The Chronicles Of Natural City and Against The Anesthesist, which were posted on December 15th 2014 and March 13th 2015 respectively. It might give you an idea of the direction this label does tend to follow.
Well, this review deals with the third release by Steve Fabry's project The Nightstalker on Wolfshade Records (that's why I did mention them at the end of my former paragraph, evidently). This side-project of Sercati (it's named after a piece created by Sercati) returns quite soon after the former releases with All For A Promise, which has a total running time of thirty-seven minutes. It goes on, of course, within the very same vein of the former releases under both monikers, Sercati and The Nightstalker. Also the lyrical concept continues the story of the Angel fighting for mankind, trying to destroy the armies of Darkness…
Opener But Not In Me is strongly guitar-based, focusing on a high-tremolo lead melody. It tells the story that follows the Natural City concept, with the first part of the lyrics being whispered, followed by the somewhat gurgling, quite characteristic gobline screams for the second half. The slow-paced piece is dark-atmospheric, filled with subtle hints of Doom and Gothic, and including some fine synth parts too. Sergent Matennen starts little weak, but pretty soon here too tremolo leads and floating synth parts accompany the weird voice of Steve. More than before, and that goes for about all songs on this album, the earliest efforts (demo + debut album) of Rhymes Of Destruction do come to (my beautiful) mind (not the lyrical concept, yet the somewhat experimental song writing, without the fiercer outbursts by the latter. Anyway, there is a lot of mystery and mysticism going on, both aurally as well as lyrically, and each new The Nightstalker's effort 'grows' compared to the former ones in conviction, craftsmanship of song writing, and final execution. Without exaggeration, the subtlety of experimenting increased once more (cf. an instrumental intermezzo like The Diversion, with chimes, wind bells, viola and WeltenBrand-alike bombast).
I was little disappointed in The Chronicles Of Natural City, but I think The Nightstalker did a huge step forward with this recording. And there is more news coming up, for in a couple of days I will write and publish a review for the album Mirmillon, recorded by Coliseum, which is another outfit that shares members with Sercati and The Nightstalker.