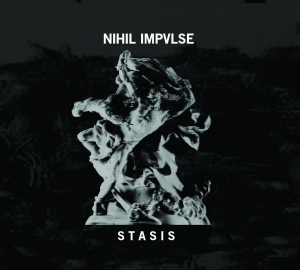 Release Date:
Thursday, December 17, 2020
Quite recently I got in touch with an Italian human being, named Francesco Di Stasio. I knew his name for being the artworker for releases by e.g. Sonologyst, but I did not know that he was the very same guy behind Nihil Impvlse. And it is this project that I will now focus on, passionately and convinced.
Actually, Nihil Impvlse did start over a decade ago, canalising obscure thoughts and negative emotions through sonic dimensions of Drone, Industrial and Ambient Music. If I am not mistaken, the whole (hi)story started with Teil I (to be honest: it always starts with that erster Teil, ergo: Teil I is a very smart title)… No seriously, the first Nihil Impvlse effort was called Teil I: Καταβασις (= Teil I: Katabasis), which was originally released in 2010 [and for what it's worth: there is a review coming up for this album soon] via this project's Interitvs Nvmen output. It got followed in 2011 by the EP Katabainein, but then the project (and label) faded away in suffocating silence. Eventually / apparently, the strength of resurrection took over reality, and in 2018 we could experience the second part, the zweiter Teil, called Teil II: Stasis.
The story does not end here. Teil II: Stasis was not the end, the definitive closure of / for this experience. Actually, in a reformed way, some of that material was reinterpreted by the musician behind the project (Francesco indeed), and for some reason (which is not that strange at all) the collaboration in between him and the friendly humanoid Raffaele Pezzella evolved into another dimension. Eighth Tower Records, run by Sonologyst's Raffaele (and part of the huge Unexplained Sounds Group family), now comes up with the 'new' album Stasis, which includes material that was originally written for Teil II: Stasis. And that's what we're talking all about right now.
This material was, by the way, mastered by Raffaele Pezzella himself, with Francesco Di Stasio taking care of the artwork once more. That artwork is stunning, based on a sculpture by Neo-Classicist Nicolas-Sébastien Adam aka Adam the Younger (Prométhée Enchaîné), and somehow it does fit enormously to the sonic approach of the album (which consists of previously written yet reinterpreted material). This specific physical ETR release comes in digipack form, enormously limited (if my information is correct, there aren't but 100 copies???).
This renewed edition of Stasis consists of seven titles, clocking over three quarters of an hour. All of them are closely related, forming one consistent story of societal criticism, focusing on the brainless existence of mankind, being an unconscious part of a useless society. 'stasis' represents the fight against, the rebellion, the courage to discuss, to battle false democratic structures, to reconquer individual autonomy, personal independence and mental / psychic / spiritual freedom.
As from opener Krankheitsfelder (with its length of four minutes, it's the shortest composition on this album), Nihil Impvlse try to focus on that awareness, canalized via down-tuned basses, low-frequency drones, martial rhythms, metallic waves and repetitive electronic soundscapes. Slowly, step by step, yet confident, these minimal sound structures march forward, growing harsher, then again decreasing into introspection. There is a desolate, claustrophobic atmosphere that covers the whole in a vast emptiness, unphysical and still touchable.
Psychik Plague (the follow-up to opener Krankheitsfelder) goes on in a comparable way, yet with a harsher approach. The symbiosis of ominous soundwaves (the monotonous main 'melody' simply paralyses), repetitive crackling noises and industrialized elements gets injected by spoken-word samples, confirming the forlorn future of mankind.
Heavily covered in a suffocating fog of mechanical and toxic emissions, Thanatological Singularity trespasses known, trusted dimensions, entering a void so wretched and uncomfortable. The confrontation with post-apocalyptic visions gets defined through harsh elements from Black Ambient, Industrial, Noise, Dark Drone, you see; a complex yet intriguing exploration of contemporary nightmares, an intolerable confrontation of the Inner Eye through some poignant and embroiled ambience.
With a piece like Zeitgeist Penthotal, my transcendental thoughts enter the realms of earlier MZ.412 somehow. Cold and minimal, yet militant and combative, these martial electronics guide the listener through a world reminiscent of Purgatory, a dungeon of torturous anguish.
In A Prison Within A Prison, there are rather oscillating waves going on at first, injected by noisy mechanics; yet after about five minutes, devastating rumbling beats and percussions, demonic spoken propaganda, and droning frequencies join. This is the lengthiest piece on the album, but being a prophetic soundtrack for a horrific future to come, it could (must) have last much longer (like forever?)…
With Prophets Of Fall, the harshness sort of makes room for somewhat dark-atmospheric sound experimentation, although it starts quite intense and malicious. And even though this piece has less of a 'Noise' or 'Power Electronics' or 'Death Industrial' approach, the attitude is at least as ferine and sinister. Portentous digital manipulations, martial and psychedelic aspects, oppressive orchestration, invocative voices, samples and much more, all this gets congregated into a ceremonial hymn to invoke Final Salvation… the End…
The last composition, To All Our Futures These Ruins Shall Return, opens almost meditative. Indeed, sonorous waves appear and fade away, time after time, in an intoxicating moony hypnosis, penetrated by bizarre field recordings and found sounds. Slowly, very slowly, other sounds enter, increasing the post-ethereal (ah, this sounds like a poetic latitude of undersigned) dream-sphere, yet after five minutes and something, a frenzy outburst of almost pyroclastic electronic pulsations destroys the inherent tranquility which was obtest at first.
Stasis turns out to be a very difficult and intense soundtrack that tries to warn us for reality; reality never changes, but it's the illusion of our life that differs. And that one deceives us, betrays us, dominates us, giving a false picture of past, present and future. Via harsh electronic and industrial structures, colored (or is it: uncolored) by minimal and repetitive Drone and Dark Ambient, as well as some martial elements, Nihil Impvlse delivers a very inconvenient and tough collection of Aural Art, but I cannot but recommend this intriguing recording!!!
https://nihilimpvlse.bandcamp.com/album/stasis
https://eighthtowerrecords.bandcamp.com/album/stasis