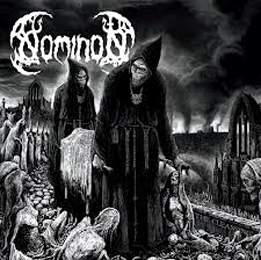 Release Date:
Wednesday, October 31, 2012
This year, Nominon will celebrate their twentieth anniversary, so all together: hurray (20x)!
No thanks, my bold friends…
History / discography: interesting! Tours all over the globe with Pet Shop Boys, Backstreet Boys and …oops, I am mistaken… Several waw-inducing recordings throughout the years, through different labels (some re-issues done through Northern Silence, and their latest ones by current top-label Deathgasm (think: Semargl, Cult Of Daath, Quinta Essentia, Kult Ofenzivy and many more)); and now The Cleansing, recorded at Studio Hell with Robbie Ericsson and mixed and mastered by Javi Feléz and the band's drummer Perra Karlsson at Moontower Studios (cf. Graveyard a.o.). Duration: thirty eight minutes.
muSICK: filthy Swedish-styled Death Terror with a mostly gore lyrical interpretation of life-and-death subjects (hèhè, I'm insulting one's brain, but so does the band). Grind-edged blast-eruptions of Old School Necrotic Death Majesty, penetrated with sordid Doom and dingy Thrash. Satanic misanthropy and horrific perversion, a tribute to rotting corpses, or better: a tribute to the things you can do with those decomposed bodies…
Nothing really new or renewing (again), but basic, essential, primal Aural Sadism whirling mercilessly around in one's skull…
For fans of Grave, Dismember and…, bah, you know…