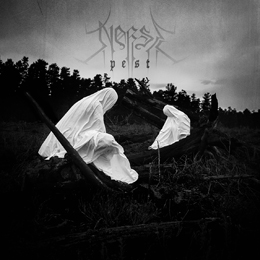 Norse, hailing from New South Wales (Australia), will celebrate their tenth anniversary this year, but before this party, there's another reason to celebrate: their newest epos, called Pest, and released this time via India-based Transcending Obscurity, one of the most professional and devoted labels I came in touch with lately.
Anyway, Norse released a first EP in 2006 (The Unrelenting), followed by two full albums, 2010's Hellstorm and All Is Mist And Fog (2012). And now there is the Pest-EP, recorded by original member and multi-instrumentalist Robin 'Forge' Stone (he took care of the mixing duties too) and new singer ADR. The material was recorded between 2011 and 2014 at the Plaguewhore Studio and mastered by Harvey O'Sullivan.
Pest consists of six tracks, which have a total running time of twenty six minutes. Once again it is a completely frenzy, psychopathic and schizophrenic form of Black Metal you will experience when listening to Pest. The stuff isn't just 'technical'; it's über-ultra-mega-maxima technical, psycho-grinding and dissonant, with sudden breaks and uncomfortable hooks, contrarian structures and harsh, discordant excerpts. But take a track like opener Encoded Weakness. The whole description I just wrote totally fits to the first three minutes of the song, but then, suddenly, everything totally decelerates and the journey transforms into an obscure and suffocative Doom / Sludge epic. All together: oink?! The next piece, Disarmed, Toothless, Weak, initially sounds rather progressive, but soon changes into a furious Tech-Blast piece, injected with the most weird leads I've heard in years. Ever heard of Anaal Nathrakh anyone? The track Pest starts little twisted, though with a very doomish approach, before turning into morbid atmospheres that are rather comparable to the likes of Portal, Mitochondrion or Ævangelist. Also Wolves In The Throne Room or December Wolves, even Deathspell Omega or Cephalic Carnage (indeed), might come to mind, by the way. And so it goes on, this MCD / EP. There are many levels, layers, dimensions to explore, and it might be a hard experience to go through, but it is worth it. No matter if you prefer the cheesy, chunky riffs or the disformed blasts; no matter if you choose the maniacal screams, the deep-throated grunts or the punkish shouts; no matter if you crave for dark-atmospheric passages, then again the cataclysmic and pyroclastic brain-assaults; in any case you will find what you are looking for.
Only for those who dare…