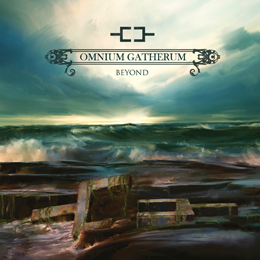 Release Date:
Monday, February 25, 2013
The Fins of the northern death metal band Omnium Gatherum impressed us all back in 2011 with New World Shadows, there previous album. That album was more to be described as melodic metal, whereas their sound has now more evolved into a progressive unity.
Beyond is the band's sixth album and with some new band members, it sets another important mile stone in the evolution of Omnium Gatherum.
Omnium Gatherum are still definitely characterized by a typical Finnish sound. We can't blame them for being proud of their roots of course, far from that actually. The metal they bring on Beyond is pounding and immediately grasps you by the throat, merciless. The guitar parts are very well elaborated and there's been made for room for enchanting keyboard melodies. It's most certainly the musical experience that has made a great improvement on Beyond.
In addition, there's something for every kind of fan of the genre. There's even a ballad on Beyond, which is something rare in the genre. However, it's incredibly beautiful and shows the sensitive side of this cold northern metal band.
The end of the album is what it should be. Here, Omnium Gatherum treat us with the crescendo this album deserves: it's melodic, aggressive, there are some peaceful interludes and all of this is concluded by a final climax leading us back into tranquillity.
Omnium Gatherum has grown up. It's a shame this band has always remained somewhat in the darkness. Let's hope Beyond will make that change, because, with all the hard work the band put into it, they certainly deserve it.