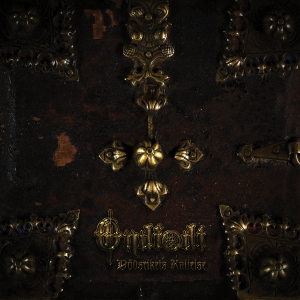 I remember being quite happy – no, I'll start all over again. Happiness has been disbanded, banished from my personal mental sanity. So, here it is… I remember being quite aroused when I heard the album Hexkonst by Finnish horde Ondfødt more than four years ago. I received the album from Immortal Frost Productions' chieftain S., and this very same guy / label takes care of the release of sophomore full length Dödsrikets Kallelse. Okay, it took almost five years, since the debut saw the unlight in Spring 2014, but to my opinion it was worth waiting for this successor. In the meantime, there were several line-up changes, but frontman Owe Inborr (vocals, drums and bass guitars) decided to continue, and it makes me happ… Oops, I did it again. Together with some colleagues from another band Owe is in, Dispyt, this guy wrote and recorded two hands full of new material to follow up the successful Hexkonst album (http://www.concreteweb.be/reviews/ondfødt). Immortal Frost Productions offers it kindly to us, dear adept, on compact disc (1,000 copies), on vinyl (12", 300 copies), and via the contemporary digital sources. The CD-edition comes with an eight-page booklet, by the way, and the LP has been pressed in two different versions, being 200 copies on 'regular' black vinyl, and 100 marbled copies, including a poster.
Dödsrikets Kallelse clocks almost thirty-six minutes and is a very varying album – more diverse than the debut, and at least as intense and powerful. The album opens with an intro which is intelligently called Intro. It's a short instrumental piece with droning guitar melodies and quite a slow tempo. And yeah, it's a perfect opener for this album, nicely introducing the first sonic assault, Den Sanna. The track starts in a merciless, monstrous way, paying tribute to the glory of the Swedish scene especially. After a short while, the tempo slows down for a moment (great hypnotising intermezzo!) before returning to a full-force attack. After about three minutes, the structure changes once more, this time showing an epic side of the story. It's incredible how easy it seems to have so much variety with such convincing coherence at the same time. With Fri Från Slaveri, Ondfødt shows a mostly victorious, epic side, maintaining the diabolic character of their existence. But then, with TIdin E Komi, the servants of Hell really seem to crawl out of the pits. In a Marduk / Dark Funeral / Dissection alike way, this piece blasts, crushes and destroys, leaving nearly any room to respire. Yet even in such a dynamic composition, this band succeeds to add moments of regression and integrity. Nice! And this story goes on throughout the whole album. Some parts balance over towards a glorious and epic pride - oh, what a fabulous piece is the Doom track Födömd I Evihejt, for example, with its Pagan-like attitude! And what about the semi-folky melodies in Midnatt?... Other chapters then again are rather uncompromising and fierce, and so on. As said, the cohesion, the organic essence remains the whole of the time – and that's a surplus with certainty! Another great aspect is the balance in between technically well-crafted elements and the brutal no-nonsense attitude of aggression and brutality. Those constructions show an ability of professionalism and conviction.
Three more tracks which need some additional attention… With the instrumental Den Sista Färden, the album brings a moment of relative tranquillity, for this very short track is as mesmerizing and dreamlike, as it is doomed and oppressing. In an obscure way, it is enlightening too, and this composition sort of paints an abandoned landscape of total desolation and emptiness. Dödens Dröm too is an instrumental piece, carefully segregated into some fine acoustic fragments at the one hand, almost emotional in essence, and some heavier outbursts at the other hand. The album ends with a cover track of Hämys, taken from their Alkemia album. Ondfødt's version of that track, Kun Minä Kuolen, is played with joy, creating a punky, smoky atmosphere. Maybe I do not exactly like this song that deeply, but still it is a pleasant way to end this memorable album.
Production-wise, there is nothing bad to say about Dödsrikets Kallelse. The recording sounds roughly polished and grim, yet decently mixed afterwards, with an equally divided proportion of all instruments involved. Yes, the better part is guitar-driven for sure, but both leading parts as well as the rhythm section are well-balanced. And since the individual ingredients, like those pounding drum patterns, are performed carefully, this fine equilibrium is, once again, another surplus on this album.
So, compared to the 2014-debut, this newest epos is more diverse, i.e. more variety 'within' each song and 'in between' the different songs. Noteworthy is the increase of slow passages, and the addition of almost integer moments. But the overall intensity and energy remained. Also, the atmosphere is much darker, misty, murky compared to Hexkonst, and the performance might be little more technical. Anyway, this Second Wave-oriented album, breathing the raison d'être of the Scandinavian glory, is at least as impressive as its predecessor. I hope not having to wait another four-five years to enjoy this band's next effort, but if this progressing craftsmanship continues this way, I will be patiently waiting…