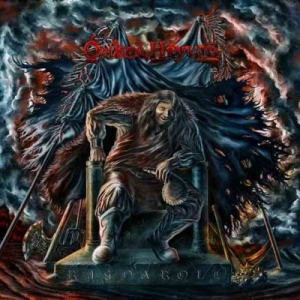 Onkel Hryum are a side-project of Grobut Neerg members Yuri and Anton, and known from their 2013-EP Захребетник especially. Apparently last year the duo did record and a release a digital track as teaser for their upcoming full length, which is smartly called Ragnaroll. Based on that title, I sort of detected a word-play of 'Ragnarok' and 'roll', bringing heathen thoughts to mind at the one hand, and a rock'n'roll-y attitude at the other. Then, based on the cover painting and lay-out of the digi-pack, these ideas got strengthened totally. So, is Ragnaroll a collection of Pagan'n'Roll hymns then?
Actually, this eight-track full length, which was recorded, mixed and mastered at the Bullet Studio, Atommass Pro in between May and August 2014, surely stands for a mixture of Folk and heavy Rock / Metal. Actually, it's like a rhythmic and up-tempo mixture of elements from Folk, Groove, different kinds of Rock and Metal (Pagan, Death, Black, Heavy, Thrash) and traditional tunes.
It gets interpreted, for example, by the use of samples (sounds of nature, for example), violins and other 'traditional' instruments (like mouth harp and bag pipes?), electronic drum computer sounds, bombastic synth passages (pretty much à la Bal Sagoth or Dagorlad) and atmospheric keyboard lines, acoustic passages, and quite some variation in tempo and structure. Most pieces are based on grooving and catchy melodies, with epic, even warlike ideas, and a somewhat bizarre yet recognizable equilibrium in between different instrumental aspects: the vocals, the violins, the synths, the basses, the guitar leads, etc.
Arkona, Heathen Foray, Eluveitie, Isenmor, Metsatöll, Adroned Brood and Finntroll might be quite an accurate incestuous breeding result…