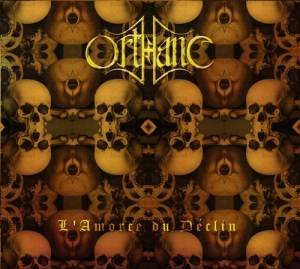 Release Date:
Wednesday, September 11, 2013
You know that I never mind writing something for an 'older' release, in case it is truly worth deserving my time and attention, and/or when some additional support / promotion can be of help. This certainly goes for some releases on the French label Hass Weg Productions. The reason is simple: honesty, pride, truth and especially: devotion!
This review deals with skulls, eh, I mean with the second album by Lyon-based act Orthanc, named after – well, of course you know that (hail Tolkien!). Actually, this band was formed two decades ago, but for some reason or another there was quite a struggle to grow (with an internal split-up for many years). And throughout these twenty years of raison d'être, releases were quite rare. In 2014 there was a split-release with country fellowmen Sacrificia Mortuorum (also via Hass Weg Productions, so stay focused and watch out for a review on this release in a near future), but this review deals with L'Amorce Du Déclin ('set-off for decline'), which saw the un-light on September 11th 2011. The material was recorded in August that very same year at Studio 66 with assistance of Legolas (not the Elf, yet the guy behind Searing Skull).
The whole experience opens with some samples that are quite recognizable and, at the same time, pretty unusual, but pretty soon this project shows why they do exist: bringing the purity, the essence, the core of grimness, rawness, fierceness and sonic hatred! L'Amorce Du Déclin defines the initiation of timeless, pure and traditional Black Metal from All Times, without dwelling towards passages of the Nordic trend (which won't be insulting at all; it's just great to notice that 'Old School' might trespass the Nordic-styled approach).
In its core, the album stands for a mixture of rhythmic structures with quite some melodious passages and un-original yet rather persuasive 'voices', the whole including many changes in tempo – and when talking about the latter, there is no way to ignore the superiority of those tempo- and structure-adaptations. Surely, the lack of originality just gets denigrated by the fabulous ideas of interaction in between the different structural concepts, without lacking of coherence. Indeed, I do mention a prominent lack of originality, but once again, WTF???!!!
Oh yeah (sorry, that 'oh yeah' sounds so Américain, so let's try with: alors oui, or hallel looooooooooopSS) – next try… Oh yes, the sound quality is unbelievably superb. I think the main drum parts might be little to exaggerated, too much on the foreground once in a while, but the final mix is just perfect in all aspects. You can hear (read: enjoy) every single aspect without inferiorising (I know that this word does not exist – until now!) any other passage, and despite the rawness of sound, the result brings forth a well-balanced equilibrium of details, created by every single instrument involved. But keep in mind: this album lacks of invention and originality. If you're looking for something 'different', then skip the ***, but in case you're devoted to the 'heart' of blackness…
At last, the lyrical side of the concept. I am (proudly) born on the fields of Flanders (actually, it was in a hospital and not on some field, but doesn't that sound more theatrical?), so my knowledge of the French language is extremely good (aren't we all superior people in Vlaanderen-Mijn-Land???)… No seriously, as far as my knowledge of the French language goes (and I am not focusing on the titles only; that would be too cheap), it deals with nationalistic pride, the superiority of nature (and therefor: the insignificance of the human kind!), hatred and battles / struggles / …, yet with an angle quite apart… …something you surely need to check out. But as for now: L'Amorce Du Déclin might be an older recording, but you need to give it a try (as well as the split with Sacrificia Mortuorum, for which a review will be posted pretty soon by undersigned), because this album… Well, just listen and you will experience the greatness of the French grandeur…