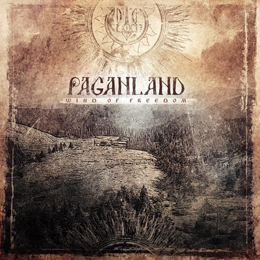 Even though they might not be known that much, Ukrainian act Paganland was formed more than fifteen years ago. At the end of last century, the band released a demonstrational record (Gods Of Golden Circle, on tape) and except for some local shows, nothing of importance happened. Eventually Paganland split up, but not officially. In 2008 there was a new release, the full length Shadows Of Forgotten Ancestors (released as a split with Tini Zabutyh Predkiv, another traditionally inspired act from Ukraine), but then the band split up again, this time officially. And again, a couple of years later, there was a resurrection. Paganland revived and started the recordings of the first 'real' full length album. At the same time, the band restarted to play live.
Wind Of Freedom is the first studio album, still with founding member Ruen, and some new musicians, and still in order to pay tribute to the cultural, historical, political and spiritual foundations of their home country. That's one of the reasons to perform in their mother tongue, and one of the reasons to deal with native concepts when it comes to the lyrics' content.
Musically this band is a perfect entity on Svarga Music's roster. Paganland brings a mixture of epic and symphonic Metal, combining Black and Pagan Metal, i.e. fierce battle songs versus folkish heroism (the flutes included), and coloured with orchestral symphonic keyboard passages, traditional elements from the band's roots, and a well-balanced equilibrium in between power, emotion, bombast and atmosphere. Winds Of Freedom stands for thirty eight minutes of emotions and pride, chauvinism and cultural Art. The album, and that's not unusual in such a band's case, includes sounds of nature and many soundscapes, excerpts & samples, as well as many traditional instruments, a focus on both melodies and ambient passages, and with a search for the perfect equilibrium in between groovy power, catchy Rock passages and war-lusting heroism.
The vocals are in the very same vein: proudly grunting, fiercely screaming, heroically singing, and harmoniously chanting.