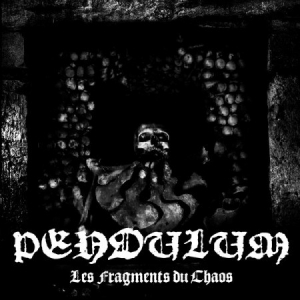 Release Date:
Saturday, January 11, 2014
I knew a Texas-based Thrash band called Pendulum (it was a long time ago), and it was the moniker as well in the earliest years for Carpathian Full Moon, but this review deals with a French act, nowadays coming from the city of Nantes, in the West of France, at the border of the Loire river (a region known for some highly agreeable Muscadet wines, but that's irrelevant right here). The band was founded by three members of Apoptosis (bass player Winter, drummer Naja-Atra, and guitarist Death), a band known from the self-released From Fall To Winter Solstice album, with Mind Asylum's Errance on vocals. But actually, there is quite a sonic distance in between Apoptosis and Pendulum, so do not expect a From Fall To Winter Solstice II.
But let's first praise the label, for this review deals with quite an old release, but it is never too late – and so on… The guy behind Hass Weg Productions is even older than I am (and that means something), but he breathes 'Black Metal' in all aspects. That's quite evidently detectable if you look to the bands - and releases - on his label. All stuff on Hass Weg Productions is like 'pure' Black Metal stuff, and that is, of course, the very same approach on this specific release. I adore same-liking minds, especially when noticing the truth, the purity, the honour, the modesty, the conviction and the persuasion of those involved. That's the case right here. Dear Hass Weg Productions-crew (mes excuses, cher R., mais je ne sais pas si je pouvais utiliser / mentionner ton nom – c'est pourquoi etc…), merci pour tout!
And now finally, the album Les Fragments Du Chaos ('the fragments of Chaos'), an eight-song monument that lasts for forty minutes. It's the band's first (and until now sole) full length album, but I do not have the impression that they officially did split up. Never mind, Les Fragments Du Chaos defines the essence of Epic Melodic Black Metal in all aspects. I am not going to dissect every single track on the album, but I will surely focus on some specific ones.
Let's take the opener L'Acier ('steel' or 'the steel'), for example. It starts with a skin-scraping scream and a fast melody, joined by a repetitive drum pattern and distant bass lines, before transforming, soon after, into a slower passage with a very epic, semi-heroic structure for a while. Faster passages and slower ones interact whole the time, permanently brutalised by icy screams and that primal yet truly appropriate drum salvo. At 1:30 there's a short semi-acoustic intermezzo, combining melancholy with pride, and shortly later the straight-forward Epic continues, mixing up mid-tempo passages with faster ones. Whole the time, however, the ingenious melodies remain – it's not that the guitar leads take over control, but it's the totality that breathes the old schooled glory by these quasi-hypnotic melodic structures. And quite important, I think, is that you cannot really refer to the purest DSBM-scene, despite quite a lot of similarities (but keep in mind: the lyrical side on the whole of the album takes distance from each possible form of happiness or joy). No, Pendulum are not a(nother) Depressive / Suicidal band, but there is a certain relationship, cf. the melancholic guitar lines and, if you want to, the tortured and wretched vocals (and text, as mentioned before). Yes, I think it's a fine composition to start this album with, for it withholds quite a lot of what characterises the (French) scene. No, it does not innovate, but that's irrelevant, also because of the permanent variety (within each single song, by the way).
Quite surprising, then again, is the opening sequence on the second track, Le Verre ('the glass'). Unlike the first piece, this approach is more of the Post-called approach, quite doomy and with a fabulous hypnotic guitar tremolo melody. But after half a minute, the Evil One himself has these guys pushed towards a pyroclastic eruption of traditional heaviness. Embitterment, disgust and hatred (the hatefulness of your own life, as well as that from others) simply typify the core. Quite the very same feeling / intention / expression returns in the other compositions. Dissonant structures (cf. those in La Poudre ('the powder'), for instance, constantly teasing and defying your attention) smartly and organically copulate with atmospheric excerpts, then again little blasting eruptions (what an energy spawned by La Folie, 'the madness', for example – I've become crazy, you got it), or chapters of despair and the lack of lust for life. Even without reading the texts (they are in French, so that might a challenge for some), this is quite well expressed by the musical craftsmanship.
Every piece on this album has its story to tell, and I love to listen to those hymns, but there is one that, to my opinion, summarises, or why not: exceeds the others: the fabulous epic-melancholic tragedy Le Poison ('the poison'). Every single second exhales majesty, purity and beauty (damn yeah, 'beauty' when talking about Traditional Epic Black Metal), but listen and you will understand. The riffing is catching (not 'catchy', but catching – quite important nuance!), creating a journey to your inner-self, I think, for this track defines the emotion of helplessness, desperation, the will to float away into eternal oblivion – you just feel that, the whole of the time.
Released in an edition of 1,000 copies, with an 8-page booklet.
Recommended if you adore the lesser-happy scenes from (for example, this list is not limited to the ones mentioned) Canada, Norway, Sweden, Belgium, Antarctica and, evidently, France!