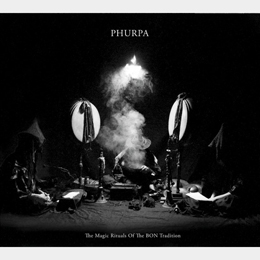 Release Date:
Tuesday, October 14, 2014
Almost twenty years ago, some artists / musicians from Russia, sharing a common interest in traditional and ritual Music, decided to create stuff that stood miles away from electronic Music. Alexey Tegin studied ancient musical cultures from ancient Egypt, Iran and Tibet, and since he was interested in the Buddhist culture in general, and the BON-tradition more specifically, he named this project after one of the five tutelary deities of the Father Tantra, Phurpa. I know that this historical explanation isn't complete, in short: fourteen centuries ago, the Tibetan tribes (following the Bon-shamanistic religion) implemented Tantric Buddhism in their rites, which created the cradle for what's now known as Tibetan Buddhism. For ceremonial matters, this religion created a specific musical current, which included traditional elements from local tribes of Tibet, Nepal, Bhutan and the North of India. And this is where Phurpa's Music is rooted in.
Cyclic Law from Canada now release the (third?) Phurpa-album, and that's somewhat strange for being so contrasting with the industrial projects on its roster. Yet then again, I think it is logical too that such a label signs this kind of band, for the spiritual ideas are comparable with most other Industrial / ambient acts.
Anyway, The Magic Rituals Of The BON Tradition consists of three aural ceremonies that clock sixty five minutes (!). It is a combination of ritual chants and traditional instruments, creating an eerie atmosphere and a meditative state of mind. The vocals are based on a typical form of mantra chanting, the so-called rgyud-skad, based on the principle of transmogrification during meditation sessions. That's something like morphing into another physical or spiritual shape. Those voices are  the typifying ultra-deep and abyssal-low (over)tones, and opening song Long Life is based on nothing but those Tantric voices (a Capella, if you want too). Lta Zor, which lasts for more than half an hour (!), goes on in the very same vein, evidently, but the vocals aren't as deep as in the opening track, and they sound little more 'trusted' to our modernistic ears. This kind of shamanistic Tantric singing reappears in the last song, Mi Dud, which also introduces traditional instruments, such as percussions (drums, bells and gongs, like 'nga'-drums and the 'silnyen', which is comparable to our cymbals) and wind instruments (like 'wandun' and 'dung-dkar', respectively some kind of horn and shell), amongst others - though the instrumental contribution stays ancillary to the vocals.
The album gets released with a bonus-DVD, reporting a live performance Phurpa did in Moscow. That DVD, however, isn't included in this promo-pack, so I can't say more about it.
Anyway, it's hard to give this material a score, for it stands miles away from our usual musical experiences. I'd rather consider it an aural expression of ritual ceremonies. But it is truly interesting, as you might have guessed in mean time, so I suggest you to check it out (you know, Bandcamp and stuff…).