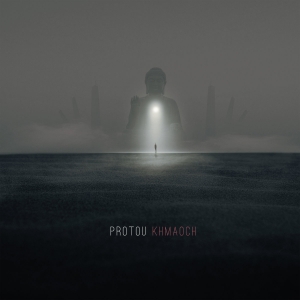 Release Date:
Tuesday, October 11, 2016
My first 'meeting' with ProtoU was last year, when I had the opportunity to review Lost Here, a grandiose full length album that was released via Cryo Chamber (one of my preferred labels within the Drone / Ambient / Industrial scene lately). The interested ones might read my thoughts and opinion about that release on Concreteweb's update of April 18th 2016 (or just enter the name in the 'search' tab). A brief history can be consulted in that chronicle.
I did admire that former recording enormously, for it was balancing in a mostly organic way in between a minimally executed approach at the one hand, and a deep-thought, even elegant manner of expressing emotions and spheres at the other. It might be the 'female touch' of Sasha Cats; who knows… But in any case, I did really look forward to listen to this new epos. In the meantime I listened to Khmaoch four or five times, and it keeps thrilling and enthralling me.
The seven compositions were recorded at the Black Room Studio / Kiev, with Sasha taking care of the production herself. Like about every release on Cryo Chamber, the mastering duties were done by label-owner Simon Heath, and the latter once again created the fine artwork.
Khmaoch is like a conceptual album, focusing on the exploration of ancient Eastern civilizations and their traditions. It tries to define the equilibrium in between cosmic opposites: light versus darkness, spirit versus Earth. This gets translated into an aural form, which clocks forty-six minutes.
The album starts off with Bridge Of Storms, a piece that also comes with a video (which you can find on the label's Bandcamp-page). What strikes me as from the very first notes is the evolution, compared to Lost Here. No, it's not that ProtoU is going another direction right now (certainly not). However, the former album was characterised with a permanent progression, starting with an inherent minimalism (cf. the opening track). This opener, on the contrary, immediately captures. A very abyssal, ominous drone defines the setting as from the very first moment. Different layers are combined into a captivating, oppressing atmosphere, leaving you gasping for air. Quite soon, however, the whole slowly and naturally turns into an esoteric mind-travel, and with an indescribable elegance this experience evolves continuously. Additions of sounds / field recordings (like nocturnal animals in the woods?) in combination with deeply-rumbling, semi-monotone drench the whole in an aural dimension beyond the ability to explain what you are subject to. This ingeniously goes further through the second composition, Stygian Vortex. Listen! Enjoy those esoteric and hypnotic flutes (by Ivan Ioanov)… This track sort of crackles, with those field recordings and noises. You feel the spirit of ancient knowledge, and its decline, the lost spirits summoned, forgotten religions resurrected. Courtesy of ProtoU, this pièce d'Art (and so are all of them) permanently evolves, with so many aspects to live through. Time after time I (and you will too, I hope) wonder, and admire, for nothing actually seems to be like you might expect. Monumental sounds are intertwined, multiple layers of sound, continuously progressing, growing, evolving, and again. And what with the constantly present return of those flutes, subtle and hidden, almost invisible, yet unmistakably defining the heart of Khmaoch.
The whole atmosphere is filled with mystique, with spheres referring to both post-apocalyptic landscapes, as well as immemorial cults. Ancient and tribal veneration of cosmic intelligence and the worship of extra-terrestrial entities, horrific testimonies of dilapidated realms, the esoteric approach on ancient cults and forgotten religions; I feel so much, there are so many levels that come to mind. The diversity is huge, but it's a challenge. Inadvertence will make the listener deaf for all hidden aspects and elements underneath the surface. But once you are willing to invest into a deeper exploration, paying attention, opening your (narrow-minded) mind (and ears), you will find out that there is a permanent arousal, a constant experience of wonderful aspects, a wish to get submerged into a spi/ritual voyage through untrodden universes once again. Like the former album, Khmaoch sort of gathers those aspects that are both reality and fantasy, physical and untouchable, contemporary and timeless.
More good news: in the meantime ProtoU and Cryo Chamber recorded / released a collaboration with another magnificent act, Alphaxone. You'll read my review on that album, called Stardust, in a near future.