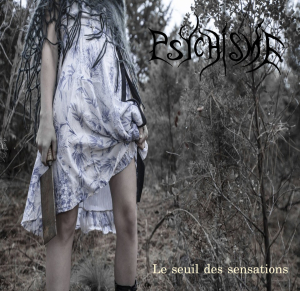 I guess it would sound like an exaggeration to call this band a 'super-group', yet still it is formed by, and consists of, three experienced musicians from French soil. This 'result of an instant jolt that leads a man to leave a trace of the intangible evil that takes possession of him everyday' was formed not that extremely long ago by drummer Naja-Atra (also known from e.g. Depressive Winter, Kosmos or Pestiferum) (he took care of the engineering duties on this album too, by the way), vocalist / lyricist Alrinack (think: Loup Noir, Suicidal Madness, Ysengrin or, in the meantime, Happy Days) (he performs the acoustic string-work as well), and composer + four / six-string player Nekros (Kosmos, Suicidal Madness a.o.).
This trio gathered five quite lengthy pieces under the working-title Le Seuil Des Sensations ('the threshold of sensations'). For the physical release, Psychisme signed to the young and small, modest, yet highly promising Flemish label Sounds Of Hell. The result is a jewel-case compact-disc, which comes with an eight-page booklet. This one contains the lyrics, which are in the band's mother tongue (French indeed), and it comes with a very confronting yet ingeniously-beautiful cover-picture, which directly refers to the intolerant and vicious aural side of the recording. The inside photography too is, FYI, stunning: cold, isolationist and pure.
Anyway, as said, these five compositions are modestly lengthy, from 4:30 up to over six minutes each, having a total running time of twenty-eight minutes. …not bad for an EP, for what it's worth. As from the very beginning of this album, this trio takes disadvantage of the well-behaved listener, when imminently attacking one's eardrums, and one's psychic welfare, through a sick and corrupt form of disfigured, discordant sonic condition.
It strikes me that the whole experience sounds cohesive exclusively, and at the same time it includes quite an impressive variation in both structure and tempo. When it comes to the latter, well, the speed is mainly of the kinetic kind. Most parts vary from mid-tempo to lightning fast, with inclusion of a couple of blasting explosions. Then again, it is really fun (haha, 'fun' and Le Seuil Des Sensations gathered in one phrase, what a cynic lapsus) to experience several slower passages too (cf. the hypnotizing opening sequence), carefully caressing a doomy gracefulness. But even these slower parts – some acoustic intermezzi included – never lack intensity or energy. Besides, these few acoustic fragments are well-woven into the whole audible web, adding a touch of Nordic-inspired epicism.
As said, the main 'theme' is build around a sense of inconsonant textures and dissonant melodies. Yet that's just a part of the whole narrative, for an old-schooled, Scandinavia-inspired pride'n'elegance too passes the revue. The production too ministers to that Nordic-styled attitude, as if this material had been partly recorded in the legendary Grieghallen Studio. …yet then again, with a modernistic mix. Within that mix, one cannot ignore the interesting balance of all instruments. The bass-lines, for instance, are quite prominently represented, the Arctic-icy voices and sharp-edged guitar leads do not pathetically overwhelm while overpowering (or minimalizing) all other instrumental elements, and the thunderous drum-patterns fit well to the sense of melodicism.
A warning, however, must be made. Le Seuil Des Sensations is a 'growing-album', which means that a couple of listens are recommended in order to capture the whole experience. It is worth it, being patient, for each listen will unveil aspects that make sense. At first, this album might seem quite unstructured – not in a sense of primal nihilism, yet rather referring to a lack of vision. But after a while, the (un)light at the end of the tunnel crawls closer, slowly yet convincingly. If this trio takes care of my feedback (yes, for I am so influential), I am sure that their next effort will devastate and conquer! Anyhow, this is a very satisfying debut!
https://www.helldiest.com/product-page/psychisme-les-seuil-des-sensations
https://www.helldiest.com/product-page/psychisme-bundle
https://psychisme.bandcamp.com/album/le-seuil-des-sensations