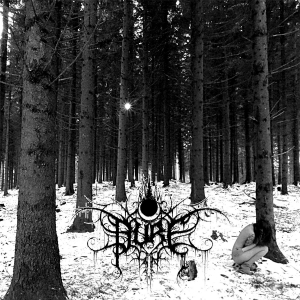 Pure are a young project by one of Switzerland's most notorious (Black) Metal musicians, Sergio 'Ormenos Bornyhake' Moplat. He's best known as drummer, yet as well as multi-instrumentalist, currently or formerly active with the likes of Enoid, Borgne, Gerbophilia, Kawir, Cryfemal and many others. He started Pure almost five years ago, and in the years 2014-2015 Pure recorded and released three full length albums, Kingdom Of Wrath (Humanity's Plague Productions), And The Waters Turned To Blood (Asgard Hass Productions) and Art Of Loosing One's Own Life (Obscure Abhorrence Productions). In 2016, Bornyhake started recording new material at the Chaos Studio, which got released in May 2017 via Germany's Obscure Abhorrence Productions and Russia's Symbol Of Damnation Productions, a sub-division of Satanath Records. The album comes in an edition of 500 copies, including an eight-page booklet. The latter contains the lyrics, which are written (and screamed) in French, and being darkened by beautiful black-and-white photography with snow as central theme.
J'Aurais Dû (which can be translated as 'I should have') brings six compositions that totally fir to the visuals: wintery, sunless, cold and desolate, like the vast emptiness on a snowy mountain. It is like a definition of the grimmest works from the first half of the nineties, like an expression of the blackened obscurity known as the Nordic Supremacy. Damn no, do not expect anything renewing, but imagine the true feeling of the Second Wave-inspired Underground, going for both performance and sound. The production is raw, you know, with those ripping, somewhat mesmerizing guitar riffs, the little simplistic (which is not meant as a negative element!) but hammering drum rhythms (including these artillery blasts), the dense, heavy bass lines, and that raw, blood-spitting throat. Indeed, quite typifying for sure. Even the few (semi) acoustic passages pass the revue, evidently. But a lack of originality must be forgiven when the result, coming from skilled song writing and professional play (and an appropriate sound!), is all right. And those trusted with Pure will not doubt: J'Aurais Dû can't be anything else but qualitative.
The whole breathes an atmosphere that truly, and deeply, pays tribute to the origins, the roots. It's not a coincidence that Bornyhake has baptised this outfit as Pure. The equilibrium in between the different instruments might balance over towards the guitar melodies especially, creating that sublime hypnotic feeling. Moreover, the few solos are even more mesmerizing, even bewitching, floating away from the contemporary catchiness of many new bands. And quite interesting too – and let's say that this aspect totally fits as well to the whole concept – is that I surely hear (and see, cf. the pictures) a certain explanation of depression, negativity, tristesse and melancholy, rather than epic and victorious sonic paintings of hatred. Okay, misanthropy and disgust covers both possibilities, but in Pure's case sorrow and bleakness overrule thuggery and bellicosity.
Oh yes, just for information, but in very early 2018 Pure did release a split with no one else but Horna via the World Terror Committee, so I might come back to this project / release quite soon, I guess…