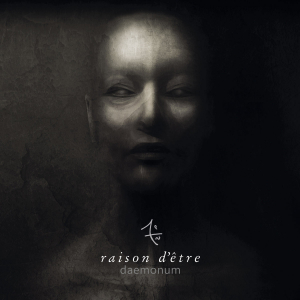 Release Date:
Thursday, September 16, 2021
It would be a waste of time to invest my time on an introduction, and it would be a waste of time for you to read an extended biography / discography on Raison d'Être, probably the best known outfit by Swedish multi-talented artist Peter Andersson, active for three decades at this very moment. So I'll skip this part. You can still search for additional information in one of the former reviews I did (links for some of them, see below) or on the Internet.
I'll go over to this record immediately. Peter wrote everything himself, as usual, and took care of 'sounds, structures and K-14 level mastering' during 2020 and early 2021. For the physical release, he joined forces with mighty Cyclic Law (also collaborating for the digital release, with assistance of Peter's distribution channel Yantra Atmospheres). Initially, there were 500 compact-disc copies, being a six-panel digipack, and in the meantime there is a vinyl edition as well, limited to 300 copies as 2-LP package in gatefold sleeve. It does come with stunning artwork (by Nihil). And damn yeah, there's a special print too, being a release of these six original compositions with six additional creations, entitled as Daemonum + Daemoniacum.
This review deals with the Daemonum part, a six-tracker that clocks seventy-five minutes. It is the soundtrack for self-reflection, a focus on the Inner Self, a guide to translate the voice of our subconscious which is called Daemon. Hunting in the shadows, for the hidden and the opposite, Daemonum is another crossing, deep down to the shaded domains of the inner world. Struggling in blindness and oblivion, guidance and protectors are needed to unfold the obscure matters of our unconsciousness. It focuses on archetypical reflections on the Animus-Anima existence and their appearance / acceptance within our existence; indeed, the core of our raison d'être.
Seen the impressive length of all six compositions (from nine up to sixteen minutes of duration), one can expect a huge and overwhelming variation and marvel for sure. That indeed is the case. Daemonum shows the timeless identity of Raison d'Être's majesty as from opener The Implacable Portal. Ethereal drones, slowly floating forward, fading away, and reappearing in all modesty and beauty - soft yet intense, enlightening yet gloomy at the same time - are like the basement on which hints of industrialized elegance and those typifying esoteric Gregorian chants dwell and crawl around. Sacred rituals and an intoxicating ambience get injected by distorted samples and additional sounds, percussion-like details (like the 'known' chimes and bells, as well as metallic elements and stuff), and a subtle yet important mechanical orchestration. Despite its sense of untouchable cloudiness, these waves of sound exhale an overwhelming captivation.
It's evident that this goes for all six hymns on Daemonum. A minimal structure at first reveals an abundant richness of sound, secretly and discrete, passionate too. The mysterious, abstruse and enigmatic vision behind this album deciphers itself via the multiple hidden aural jewels that cover the structure of the whole sonic journey though the spiritual dimension of the mind. Over and over again, new elements emerge from the abyss called Daemonum, through ingeniously written and recorded elegance. Within the tenebrous title track, one can even 'enjoy' hypnotizing acoustic string-work and eerie, murky grand piano tunes. Almost meditative, the whole experience sometimes surprises with little 'harsher' moments (like in Retrieving The Maternal Cathexis). Yet then again, the 'heaviness' that does characterize quite some older stuff is less represented this time. I'd rather refer to a passage through a mystic nebula, through elfish forests, through an unphysical dimension of oblivion, secrecy and devotion.
I'll keep it brief this time. Nothing more to add. Just listen. You will adore it for sure!
https://cycliclaw.bandcamp.com/album/daemonum
https://www.cycliclaw.com/music/raison-detre-daemonum-cd2lp-178th-cycle
https://raisondetre.bandcamp.com/album/daemonum
https://www.concreteweb.be/reviews/raison-d%C3%AAtre
https://www.concreteweb.be/reviews/raison-d%C3%AAtre-1
https://www.concreteweb.be/reviews/raison-d%C3%AAtre-2
https://www.concreteweb.be/reviews/raison-d%C3%AAtre-troum
https://cycliclaw.bandcamp.com/album/daemonum-daemoniacum