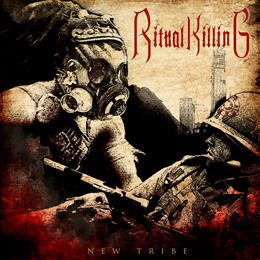 Release Date:
Wednesday, December 21, 2011
Ritual Killing are a German Thrash-combo, formed in 2008 in Cobourg and rather inspired by the American scene than the European in general, or the German one more specifically. And with 'American' I'm referring to both the North and South American scene.
New Tribe, having a total running time of more than fifty minutes, is not a bad effort, yet it lacks of an own identity for the better part. With 'the better part', I'm referring to a not-totally lack of (otherwise I would have written: 'completely'), because the band introduces a couple of original instruments, like didgeridoo, timbales and djembe, as well as some USDM-riffs and a handful of funky, grinding or post-modern additions; and what to think about the acoustic intermezzos?...
The main focus, however, lies on technical and groovy Thrash-oriented Metal in the vein of everything in between later Sepultura (as from the Roots-era) and Soulfly, Full Blown Chaos, Six Feet Under, Hate Squad, Overkill or Exodus.
The tempo is mainly speed-up, yet with the necessary decelerations. The sound too is nice: full and overpowering, not exaggerated in force yet decently balancing towards acceptable rawness.