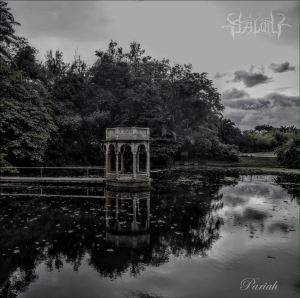 I do know that Salqiu did release a 'new' album in November 2022, but this review deals with the first part of the evil-twin sessions from hot, sunny, cheerful late Spring / early Summer 2022, Pariah. The second chapter of this diptych, if you want to, is called The Colossal Weight Of My Illusion…, and I might write a review on that one too, if I'm in a good mood. Who knows…
Anyway, Pariah is a result of the psychic 'Music lab' that spooks around within the skull of Nuno Lourenço, the sole entity behind Salqiu. He recorded the nine elegies between June 3rd and 11th of last year, and had it released independently immediately afterwards. Indeed, it means that there was no decent mix in some expensive studio, but that's what Salqiu breaths: uncompromising rawness. It's 'a mysterious entity swallowing the light into the darkest abyss, marching mechanically into the realms of Salqiu, the most obscure Lusitanian Warrior God of the Dead and the Underworld…' [] 'there is a Cosmos in the Underworld. A dark, obscure aura that must be unveiled…'.
With exception of a guest contribution on the occult track Death! That's Where I Belong (clarinet provided by some Paulo Chagas), Mister Lourenço (currently residing in Brazil) did write and perform everything himself. The result consists of nine titles, having a mind-devastating total running time of over forty-three minutes. The album opens with some pieces gathered as A Greek Suite, and the first part, Fates, immediately shows the unusual approach of this solo-outfit. It starts with some fast-played, energetic  yet Mediterranean-sounding acoustic guitar melodies, joined by different percussions (militant drums, hissing cymbals), joined by female chants and some secretly injected additions. Towards the end, things enforce, revealing a nastier attitude. Yet it is with the second part, Clothos, that Salqiu represent their soundtrack of blackened madness. This discomfortable form of (Black) Metal, based on raw guitar-lines, pulsating drum-patterns and deep-tuned rhythm-strings, get darkened in a bleakest sense by wretched, malicious screams. It's like an overpowering blast, an avalanche of noise, searching for (and finding) a sweet balance in between destructive and chaotic derangement at the one hand, and ingeniously composed elements at the other. Then I am thinking of, for example, the sudden breaks or the almost hysterical intermezzos with that (Greek?) acoustic guitar (the bouzouki, or something like banjo, saz, lute or mandolin).
That paradoxical combination of traditional and exotic acoustic strings with harsh, raucous Metal-laden outbursts, forms the basement for the better part of this bizarre adventure. Because of the surreal song-structures and out-of-the-ordinary textures, the whole comes with a unique yet complex core, very avantgarde in nature, very pure in essence too. No matter when an excerpt is furious and lightning-fast, purely blackish and devastating, or rather harmonious then again; the whole of the time this interaction teases, confuses, wonders. It works well too. Despite the trepidatious, neurotic approach, the listener won't get nervous of it, just lunatically excited and aroused, I guess.
The question is: how would one call or label this stuff. Well, does it really matter? Is it Black Metal? Yes, it is. Yet then again, this has nothing to do (or at least: not the whole of the time) with how one would define 'Black Metal' in its original form. Many excerpts are extremely frosty and dismal, with a violence that is part of the naked essence of what Black Metal in its purest form stands for. But the additions from funky and jazzy origin (sax, clarinet [I want to refer again to higher-mentioned Death! That's Where I Belong, for it might be an extra-terrestrial hybrid of Badalamenti and Acherontas in some intoxicated point of view / listen], that Brass-band thing in The Mordant Fascination Of A Murder (While The Devil Plays Jazz), and more than just a couple of Funk-laden bass-lines included), the oriental-folk-like addenda (cf. these 'native' acoustic chapters throughout the whole of the album, yet especially during the first half), the progressive structures (and related decompositions of constructed fabrication), the slower excerpts (a couple of times including ambient-influenced synths or gloomy, mesmerizing harmonies); it makes Pariah a new highlight within Salqiu's supernatural existence of sonic schizophrenia.
To the likes of I, Voidhanger Records or Season Of Mist: Nuno is still impatiently awaiting your support to have this stuff printed on vinyl; purple splatter-vinyl, of course. Guys, where are you, what are you waiting for? Do I have to add a grim-looking or horned smiley right now?...