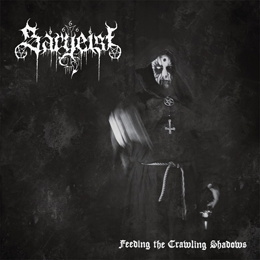 Album Title:
Feeding The Crawling Shadows
Sargeist might be (one of) the best known project by Finnish Black Metalist Shatraug, though he's involved with tens of other bands and (solo) projects as well, such as: Necroslut, Horna, Black Stench, Ravening, Behexen, Mortualia, Foudre Noire and many others. With Sargeist, Shatraug recorded hands full of great stuff, in mean time released as (professional) album or as a split, with several records done via current top-label Moribund - the Moribund Kult forever rocks and rolls… (and now, for the first time, via W.T.C. …; …sound abyssically nice, not?...!).
Line-up on this album: Shatraug (g), Horns (d; also in Behexen), Hoath Torog (v; also in Behexen), and Vainaja (b; of Neutron Hammer / Cornigr / Horna / Vitsaus-fame).
It took quite some time, but you won't hear me complaining: Sargeist are back, after 2010's grandiose Let The Devil In (review done by undersigned still available within Concreteweb's Archive-section: see update February 23rd 2011). Once again, the album brings very grim, cold, eerie and fast Underground Black Metal with a dry, raw sound and an enormous energy. I want to refer to the production, because it is, as expected, and as usual, of the lo-fi kind, but unfortunately it might be somewhat too 'primitively executed' this time. It's way too chaotic and noisy, and it makes several aspects (like the essence of the rhythm section) disappear in a mush of noise. Very, very un-funny. An undeniably important detail too is the rawness. Let The Devil In was little more 'organic', melodic and atmospheric than before, with more slowed-down passages, but this newest piece of Aural Art returns to the roughest roots of Old. Indeed, there is nothing at all that 'renews', but I mentioned it a thousand times before: why changing a winning concept? Once you get 'into' the stuff created and provided by Sargeist, you won't accept a drastic change, evidently (as a Black Metal purist, I think that's logical, for it counts for the whole scene).
But as mentioned before, at the end the production does not please me and unfortunately it does influence my general opinion, and therefore the final score (for what such subjective addition might be worth, of course). Excellent stuff though…