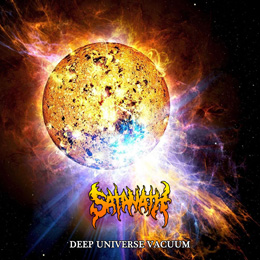 Release Date:
Friday, December 19, 2014
Last year I came in touch with Alexey 'Satanath' Korolyov, the extremely friendly youngster behind the truly fabulous label Satanath Records. It's not only the label's roster that impresses me (with so many great bands and projects from different dark-edged genres, cf. Death, Black and Thrash Metal, Grindcore, Ambient and Doom), yet even the website is extremely professional; truly a pleasure to visit (you can find the link in our 'Links'-tab – makes sense, I think…). And besides, very recently the label released its 100th recording. All together: congratulations and celebrations…
Anyway, Alexey has some solo-projects too. He is the guy behind Abigorum (hey Alexey, when will Abigorum record new material?) as well as Satanath itself. In 2013, Satanath (the project) released Satanath (the album) via Satanath (the label), which was a compilation with material that Satanath (the guy) wrote and recorded as from 2011 on. In case you're interested, you can check out the review for that surprisingly interesting release on the November 21st 2014-upload. It was co-released with DeadDogSkull & HeilHellProductions, which was the more Ambient-oriented sub-label from / for Satanath Records, and now (as from 2015) working completely independently (currently based in Lithuania).
Under the Satanath-moniker, Alexey now releases a second album, which lasts for eighty (!) minutes. It gets released via DeadDogSkull & HeilHellProductions once again, in co-operation with Symbol Of Domination Productions, which is now run by Alexey too; being an outlet for things that do not quite fit the roster of his main label.
Anyway, for the better part, Deep Universe Vacuum goes on in the vein of the self-titled debut album. The material gets described as 'Dark Space Ambient', and I think that does totally fit. It's a 'grow-into'-album, with quite a difference in between the first and the second half, at least when it comes to energy. The first half is rather of the monotone kind. Most of these compositions are ice-cold soundscapes slowly marching forward, based on minimal yet floating synth lines and some noisy-industrial background sounds. But it's not that these pieces aren't but dull and repetitive constructions without any content. No, despite the nihilistic form, it comes with quite a hypnotic, obscure, even horrific atmosphere. After a couple of listens you will notice the different layers, creating a multi-dimensional experience. And what's more, there are quite some unique, and therefore highly enthralling, additions in both sound and structure. More than once, specific excerpts even come with a ritual / ritualistic and / or haunting atmosphere, challenging your brain to dwell into dark, ominous and spooky (under)worlds. As from half of the album (it starts with Yngudu, as if it was meant to be the bridge in between both parts, yet especially as from Korasa on, this change sounds rather drastic), things get spacier and more electronic. Besides the aspects from the first half, i.e. taken from Haunting Drone, Dark Ambient, Death Industrial, Minimal Industrial and Soft-Noise (Soft-Noise, does it exist; as from now on, it does), now elements from Dark Electro, Space Electronics or Tribal make the whole journey much more energetic. Mental illness will help the listener (at least, it works in my case…) to fully understand this weird yet, at the same time, remarkably natural sounding evolution. A 'natural sounding evolution' – it's like the 'Origin Of Species', yet here rather definable as the 'Origin Of Spaciness'… The multi-layered structures now come into their own, focusing on both diversity and coherence. A few excerpts, especially the ones with tribal electronic drum beats, bring one's mind into an ecstatic state of trance (listen to Ysab, for example, and you'll understand), and some more hypnotic pieces create a meditative feeling (as a matter of fact, so did some parts from the first half of Deep Universe Vacuum too).
The last 'song' is a cover from S.S.T. Band aka Sega Sound Team, the group of composers that created the Music / soundtracks for several arcade games (like pinball machines, video games etc.) for the Japanese company Sega Corporation. It's personal, but I do not like this at all. I think it's a total anti-climax, so please, just ignore this interlude. It's not worth spending my §*##²+`=¨*µ…
The biggest differences with the untitled debut are: more cohesion (the former album was more like an amalgam of related stuff, while this one is truly something that builds up to a climax), and the growth towards an own-faced sound. Deep Universe Vacuum is less distorted less noisy like in 'Noise', and more trance-like, yet not like in 'Techno-Electro-Lounge-Trance'. It is more droning too in comparison to the former full length, yet not of the repetitive kind. But with exception of that [self-censorship ;-)], this album is at least as great and surprising as the debut, and to my humble opinion, even better!