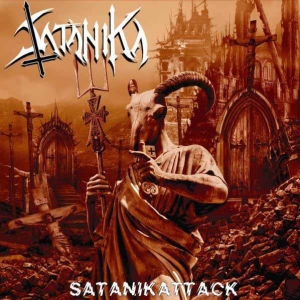 Release Date:
Wednesday, September 9, 2015
Acting under quite a non-inspirational moniker, Satanika are here to punish the world with their frenzy definition of sonic harshness. Formed in Rome in 2009, the band did record and release two hands full of EP's, a couple of full lengths, and they contributed on a split with Columbia's Revenge. Their first album was released at the very end of Winter 2011 via Austral Holocaust Productions (CD) and Iron Shield Records (vinyl), and if I'm not mal-informed, there was a first re-issue during late Summer 2013 via Instrumetal Trade Records (at least, that's something I came along on the net). But anyway, now Cold Raw Records take care of another re-issue, though being limited to 60 (sixty) hand-numbered copies only, with new artwork, and including a bonus track.
Anyway, the trio, with all members also involved with mighty Massemord (FYI: a review on their Cold Raw-EP Devil was uploaded a couple of days ago, on December 22nd 2015), bring a symbiosis of the several EP's they did before this release (and which do slightly differ from their later works). Satanikattack (total running time: thirty eight minutes, including the bonus track) brings an energetic, blaspheme and alcohol-infused form of guitar-oriented old styled Thrash-Black Metal, you know, the spikes'n'leather / booze'n'bitches / sex'n'violence alike kind à la the Old Skool. It sounds somewhat mechanical and forced from time to time (cf. the minor sound quality), but this element is totally inferior to the mighty song writing (though nihilistic in most aspects) and supreme execution. Actually, it's the technical nihilism especially that turns me on: elementary riffing and basic structures lifted up by high-tech-crafted execution and timeless craftsmanship, that's what makes undersigned a 'fan'… despite the forceful energy, the tempo isn't always, and necessarily, based on high-speed structures; on the contrary, there are quite some slower, even doomy passages, quite Samael-up-till-Worship Him-alike in heaviness and tempo. Besides, the band does not eschew to add some experimentations, like the weird intro to Witch From The Grave. But do not consider it as 'experimental progression', for the whole journey is heavily rooted within structures and spheres of the glorious eighties (with a focus on the so-called Teutonic trend).
Oh yes, a short thing about the bonus track: a version of Razor Maniac, performed live at DDTA in 2012, and coming with (+) a splendid performance and (-) a minor sound quality. Yet since this is a bonus, one must not be too stubborn not to recognize the value of such addition…
Nocturnal Breed, Desaster, Sodom, Kreator, Fatal Embrace, Vulcano, early Samael, you know…