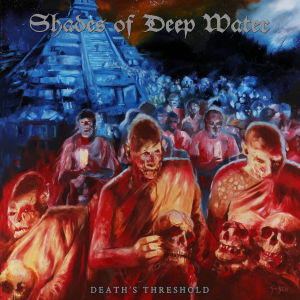 Finnish artist Juho Huuskola aka J.H. did form Shades Of Deep Water almost fifteen years ago as a solo-outfit to canalise his negative and isolationist ideas and thoughts about humanity, cosmos, reality and evolution. During the second half of last decade, he released some demonstrational recordings and one official EP, eventually followed by a first full length studio album, Waterways (independently released at the end of Summer 2013 on cassette). In 2015, two more EP's did follow, which were compiled afterwards in a decent physical format by Dunkelheit Produktionen. It's that very same magnificent German label that takes care of the release of this second full-length album too, which is called Death's Threshold.
This new album, Death's Threshold, is released on compact disc (available with or without jewel case, including an eight-page booklet plus pin), as well as on vinyl with poster / printed inner sleeve, in different formats ('regular' black vinyl, as well as aqua-blue and red vinyl). It was done by J.H. (who's the guy behind the new project Sarajah as well, by the way), i.e. song writing, lyrics, recording, production and mix, and the mastering was taken care of at the famous Resonance Studio by Dan Lowndes (think: Vile Apparition, Imindain, Suffer Yourself, Death Fortress, Profetus or Triumvir Foul, amongst many others).
Death's Threshold consists of four lengthy compositions (total running time: forty-one minutes), which were written and recorded in 2017 / 2018. It has quite strange, specific cover artwork, quite unusual for the sonic side of this act (by SV Belt, known for his visual efforts for e.g. Impaled Nazarene, Kataklysm, Oppressor or Wombbath), and the layout was done by guitar player / vocalist Mike 'Mia' Priest (member of e.g. Nightmare A.D. or Blood Division, and known as visual assistant for many bands and projects such as Anal Vomit, Goatblood or Scalded Infamy).
This second full-length studio release convinces (at least, in my case it does) as from the very beginning. The recording opens with Part 1, which starts modestly symphonic, with an intro performed on violin (or viola) and cello at first. Very beautiful it is, yet at least as bleak, woebegone, wistful. This extremely fins string introduction soon gets joined by 'predictable' elements – beware: for predictable can not be seen as something negative right here! – elements not uncommon or unusual when defining this project's raison d'être. I am talking about massive electric strings (very heavy and low-tuned electric guitars and basses) and slowly pounding drums. Also the vocals, which get introduced little later, are characteristic for this song's sonic unhappiness: ultimately deep, growling, tormented. However, at the same time J.H.'s throat has something distinctive too: hoarse, guttural, even crude. Two other characteristic elements that appear are the use of dreamlike piano interludes (not that pathetically mellow stuff, yet full-fledged and integer), which smoothly and organically is injected into this first song's structure, and secondly that floating lead soloing guitar play.
But hey, here comes the good thing. Forget about that 'predictable' thing I mentioned. Why? Well, because from qualitative point of view / listen, this is oh so magnificent. The whole atmosphere, nostalgic yet depressing, the reappearing violin / cello, the intensity of the almost physically translated emotions of this composition; all pieces of this puzzle fit, resulting in a majestic soundtrack of funereal pleasure and night sky colors.
And that is exactly what Part 2, Part 3 and Part 4 are all about as well. What else anyway? It is all about melodious Funeral Doom Death Metal with overwhelming structures, monolithic constructions, a huge dose of variation within each single track, a truly amazing, powerful sound quality (perfect mix, professional production, detailed yet still rough-edged), and whatever you search for when wanting to experience dimensionless emptiness and infinity. I feel passion, I feel sorrow and gloom; I feel elusiveness and wonder too. A connection of life and space, of creation and destruction; it is like a quest for the unknown, or is it an escape from consciousness, when we go down, deeper down…
https://shadesofdeepwater.bandcamp.com/
https://dunkelheitprod.bandcamp.com/album/deaths-threshold
https://www.dunkelheit-produktionen.de/presta/en/dunkelheit-releases/4409-shades-of-deep-water-deaths-threshold-poster-fin-cd-dunkelheit-releases-dunkelheit-produktionen-0662425101771.html