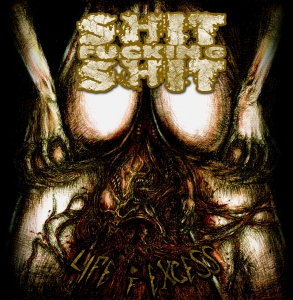 Italy's Shit Fucking Shit (sometimes labelled as ShitFuckingShit or SFS too) are known, to my opinion, for their shit fucking shit contributions on split efforts especially. In the past they did join forces with other sweet acts such as Kadaverficker, Agathocles (I promise you to have some upcoming reviews on (new) shit fucking shit stuff by these lovely guys very soon, and on March 29th 2016 I uploaded a review for this band's split with De Blenders) or Colico, amongst many others. Recently Legs Akimbo's master brain Neil did send us the newest shit fucking shit effort by this combo, which was released in a co-operation with quite some other splattered shit fucking shit labels (hurray, hurray!).
Life Of Excess bring twenty five shit fucking shit elegies (and three live bonus excrements) that have a total running time of forty three minutes. Evidently such thing reeks of Grindcore, and Grindcore indeed is what you get! But amazingly this isn't 'just another' Grindcore release, because of the variation. Actually, many kinds of faecal grinding madness pass the revue. Some pieces are purely goregrinding pig-squealing shit fucking shit, being filthy and short. Others are injected with a shit fucking shit Punk-laden attitude and performance, then again with some shit fucking shit old Napalm Death / Brutal Truth approach; quite some 'songs' are totally penetrated with the most shit fucking shit nastiness of the earliest Death Fart Metal scene; once in a while there are catchier, even groovy creations, with anal excursions towards the Groove / Heavy / Thrash'n'Roll Metal scene (shit fucking shit indeed!) – and so on.
And that's my biggest concern. I adore the fact of variety, especially within the shit fucking shit Grind-scene. But then again, one might be looking for coherence, and that might be the shit fucking shit issue. But what the shit fucking shit, within the over-saturated Grind scene this release sort of refreshes (despite reeking of droppings). Besides, the sound quality is superb (!); even the three bonus creations are more than acceptable wound-wise.