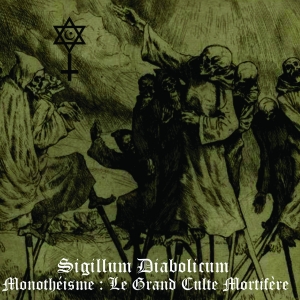 Album Title:
Monothéisme: Le Grand Culte Mortifère
A short one, for this review is meant as a preview on an upcoming one for the very same band…
[release date: March 25th 2014]
Sigillum Diabolicum are a band from the centre of France, Clermont-Ferrand, which started at the beginning of this century. After a demo and a split with country-fellowmen from Pestiferum and Luci Tristis, the trio released a first full length (Chroniques De L'Infamie) in Spring 2010 via Thor's Hammer Productions. Then it took another four years, and at the very beginning of Spring 2014, Vasso 'V k' Kaletis (basse, mixage), Baarouk (aka Brk; guitares, vociferation, diatribes hérétiques) and Lukter (aka Lkt; batterie, hurlements, pamphlets blasphématoires) (great, those descriptions…) released their sophomore full length, called Monothéisme: Le Grand Culte Mortifère. The album was recorded in France Libre on several locations / moments, and it appears in a jewel case compact disc which includes a, eight-page booklet (with lyrics – in French – and specific / explicit graphic artwork / photography). Freedom of religion, border-crossing peace, multi-cultural tolerance and warm hugs… The album promotes monotheism: 'le cancer d'une société qui sombre dans la crasse. L'immondice persiste et gangrène peu à peu les séniles vieillissants! There you have it…
The seven tracks clock thirty-two minutes, and got released via one of the most honest and pure Black Metal labels from France, Hass Weg Productions – this purely informative – in an edition of 1,000 copies. Go for it!
The album opens with the intro Le Grand Culte Mortifère, and merde alors, but it is based on some grandiose Classical piece, but I can't remember the composer nor the title of this composition right now. Shame on me, but then again, WTF. Anyway, this introduction is a combination of that ancient composition, injected by several vocal samples, en Français evidently, about socio-cultural and political issues. It sort of gives an idea of the philosophy of this band, and that is not that uncommon in France, as you might know. Fine opener, for it nicely introduces that what's next to come.
As from Le Kaaba, Sigillum Diabolicum go on where Chroniques De L'Infamie did end. Primal thrashing Black Metal, rhythmic, grooving, energetic, persuasive and angry, the trio brings vengeful, furious, chopping and rhythmic Black Metal with a primitive approach, an attitude of intolerance, and a philosophy of 'our' superiority, 'their' insignificance and the contrast in between man's being versus religious suppression. A great thing is the injection of many (vocal) samples and excerpts, like from some Islamist's prayers, spoken words, operatic choirs or Gregorian chants.
The sound is quite unpolished, enormously rough and, to my opinion, maybe a little too under-produced. Okay, there is nothing wrong with the final mix when talking about the equilibrium in between all ingredients, but the result is very dirty and messy. Yet then again, I prefer this above any clinically polished production, for the message of Sigillum Diabolicum might be allergic to surgical decency. Besides, the general guitar sound comes with that buzzing flair, strengthening the vile malignancy, the vocals are, in their exaggeration, simply irresistible, and the rhythm section is oh so powerful, pushing and pulling the central melodic structures on Monothéisme: Le Grand Culte Mortifère. Radical, militant, intolerant, this album reflects all disgust, hatred, aversion to narrow-minded and pathetic mono-religious nonsense.
A word about the vocals. The better part is not exactly 'blackened' as in 'blackish screams', yet not that unusual in France is that here too the voices are rather shouting, almost Hardcore-ish. You might like it or not, but I think (even though I do prefer those Arctic deep-blackened throat) it goes well with the instrumental part, for the result of this combination intensifies the band's epistle.
Oh yeah, just for your appetite and information: Hass Weg Productions did release the third Sigillum Diabolicum, so stay tuned, for a review on Ordo Repugnant … will follow soon!