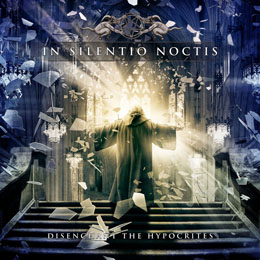 Album Title:
Disenchant The Hypocrites
Finland's In Silentio Noctis were formed seven years ago, with a debut full length in 2010, called Through Fragments Of Christianity (also via My Kingdom Music). And in the vein of that first full studio release, Disenchanting The Hypocrites continues the path of Symphonic and Obscure Metal.
Disenchanting the Hypocrites (total running time: 16:26) was recorded by front woman Armi Päivinen, with a new line-up: Aleksi Ahokas on bass, drummer Veikko Ringvall, and guitarists Tuomas Leskinen and Samuli Reinikainen. The compositions are, as mentioned before, in the vein of the debut full length, which means: orchestral and bombastic Metal compositions that flirt with both the Gothic as well as the Black Metal scene, coloured by the operatic voice of Armi (a contrast that works just fine!), and flavoured with violin lines (provided by Ville Koponen). Some will label this stuff as 'female fronted Goth'-alike stuff, which I can understand (even though I detest the labelling 'female-fronted' for different reasons; no, not because I adore the female entities too intensively…), but the Gothic / Doom / Black Metal instrumentation goes little further than most same-called acts from, let's say, Holland, Germany, Norway, Italy or Finland.
Despite the heavy approach, instrumentally, the whole sounds rather catchy for sure. It will, therefore, please a younger / wider audience. The sound too is very neat and decent. Full and heavy, but un-raw and cleanly polished. That's something that might influence the listeners' opinion, of course. It surely does influence mine. But in any case, I think this new In Silentio Noctis-material is a modest recommendation.