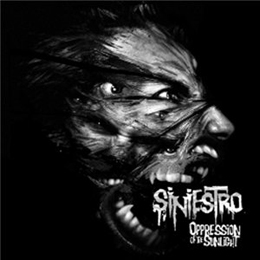 Album Title:
Oppression Of The Sunlight
I knew a Spanish Punk act called Siniestro (a long time ago), but this review deals with a band formerly known as Graverape Ritual. This Swedish project's name changed into the current moniker in 2012, if I am not mistaken, and Oppression Of The Sunlight is the first release under the current constellation. At the same time it's the third release on Berlin-based Bleeding Heart Nihilist Productions, a young label that focuses on Extreme Music in general, i.e. Punk, Metal, Crust etc. No limitations, just irritations… And for your info: the next release (the fifth, because there has been released a split, in mean time, with Wigrid and Sunshine And Lollipops, which I will review in a couple of days) will be the re-issue of Graverape Ritual's self-released 2010-debut (but that's something we will deal with later).
Oppression Of The Sunlight was recorded by Linus Öhrn (v, g, b) and Sebastian Rojas (d), and the duo did the production themselves. There are six songs, which have a total running time of twenty eight minutes. The first composition is the title track, and this track sort of stipulates what Siniestro stand for. And that's a heavy, energetic and powerful mixture of melodious Hardcore-laden Punk (Rock) and timeless, little grooving Thrash Metal. I mentioned 'timeless', for this band's approach combines the essence of the oldest school with elements from the modern current. It sounds rather catchy and accessible, which you can define a cure then again a blessing. City Of Fake goes on in a comparable vein, but with Monster, Siniestro do surprise me. The main parts remind me a lot to Bathory's Blood On Ice, with especially the acoustic passages coming to mind. Okay, it has nothing to do with the glorious Viking-identity whatsoever, but a track like Man Of Iron isn't that strange right here…?... With Anthem, Siniestro go the anthemic way (cheap definition of undersigned, I know, but I was in for some laughing right now…), bringing a primal, purely old styled Punk Metal hymn, a head-banging sing-along, or something like that… Fondations is a long track (almost ten minutes), but the most evident and inherent expression of Siniestro's approach. It's a mixture of Punk-laden energy and Thrash-oriented technics, performed with epic and melodic grandeur, and done with quite some variation in structure and performance. I think it's much more an anthemic track than its predecessor, if only because of the grandiose Folk / Pagan-identity. Great guitar leads, by the way; you need to find out… Hatet, finally, is a monster of a thrashing Punk Metal song, once again based on great riffing and splendid leads, a massive rhythm section and glorious chants, and it's the finest way to end this record.
Without any doubt, and I am sure you will agree, this stuff is of a superior quality, at least within its specific genre. It has been quite a while that I enjoyed such a Punk / Thrash / Epic recording so profoundly. Conclusion: see score!