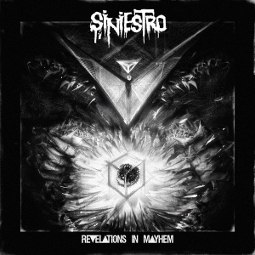 ~~Swedish act Siniestro, once formed as Graverape Ritual, return with Revelations In Mayhem, about two years after the Oppression Of The Sunlight EP (the review I did for that one was published on November 11th 2014; you can enter the band's or label's name in the 'search'-tab to find out more about the band / label), and four years after Against The Rotten Music Industry (which actually was released under the former band's moniker, Graverape Ritual). Once again via Germany's Bleeding Heart Nihilist Productions (Against The Rotten Music Industry was re-released via them as well around the same moment of Oppression Of The Sunlight), this specific release will deserve some additional support.
The trio (original members Linus 'Commander' Öhrn and Sebastian 'The Machine' Rojas recruited bass player Fille 'Bloodbag' Armfelt in mean time) created eight new tracks, gathered under the Revelations In Mayhem banner, and clocking, all together, modestly over half an hour. As from the very first track you might notice the evolution Siniestro underwent compared to the past. Revelations In Mayhem has become much more 'Metal' and less Punk / Hardcore-oriented. Okay, the influences from the initial Hardcore / Thrash / Punk roots are still present for sure. That goes for quite some vocal appearances, as well as for several excerpts within the instrumental performance. But the song writing surely focuses on a Metal-laden idea. I do not dislike Punk, but I am quite happy with this evolution, of course (but that is nothing but a subjective and personal addition, which you might ignore).
But there are more differences. The creativity did increase a lot too. No, Siniestro have not turned into a Progressive formation, and yes, in the past they were quite unusual and unique too. This time, however, the variation, the exceptional identity, and the own-faced execution has developed even more than before. It would be a hollow fact to sum up all renewing or original elements that pass the revue, and I will not describe each single track either, for it would lead us too far. Besides, every single creation on this album is different from any other, so where would it lead me to? But at the same time, once again the band succeeds to create a very cohesive story, with, despite the differentiation in approach and performance, a recognizable sound, totally courtesy of Siniestro.
Revelations In Mayhem surely rocks, with those heavy riffs, arousing solos, thundering bass lines, devastating drum patterns, varied vocals (screams, growls, barks, grunts, yells, shouts, sighs and singalong-crooning). Actually, in general everything evolved rather into a Death Metal-oriented Thrash / Heavy Metal hybrid, injecting the whole with elements from tens of related genres, from epic over harsh to rock'n'rolling. It might be less epic (and then I am referring to the victorious definition of 'epic') than before, and surely less punky. Remarkable and cool too is the balance in between modernism and a prominent old styled attitude, though the Old School trend surely overpowers the modern days' vision.
A word on the sound too: great. It's not clean as in 'clinical', but this is quite a decent result. Maybe, but now I'm complaining for I have nothing else to do, it might be somewhat too decent, and little more rawness would have given the result a more brutal face. But it does not stink, this production (done, once again, by the band itself), even though it does turns towards a catchier approach, I think.
Quite an unnecessary addition, but I think it's worth mentioning: the mastering has been done at the famous Fascination Street Studio by nobody else but Jens Bogren – think: Paradise Lost, Extol, Amon Amarth, Gwyllion, Wall Of The Eyeless and many more. You're welcome…