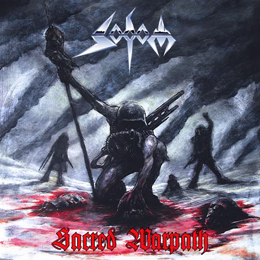 Before i express my opinion, I have to admit that black/trash metal is not usually my kind of music... But I did like Persecution Mania. Long time ago though.... Even listened to Epitome of Torture again, to catch up.
New one on this EP, Sacred Warpath, woke my attention because of the greasy riff at the beginning. I was kinda surprised, and curious about what was to become next. Unfortunately, the constant voice changing of Tom Angelripper irritates me like hell. Am I wrong, or does his voice sound a lot sharper on this one? Anyhow, I have no idea where they are heading for on the albums still to come. Sorry guys, but i'm not impressed. Stigmatized (live), we know from Epitome of Torture (2013). Good one !
The Saw is the law in a live version (no idea from what festival or set), begins with an awkward version of Surfin' Burd from the Trashmen (1963). Maybe i'm too disapointed in Sacred Warpath, and i'm kinda pissed about it, but I don't get the humor... a lack of inspiration? Where is the good one from Better of Dead (1990) ? 
City of God, again a live version, we know from Sodom (2006). We like ! Still, despite all good intentions, i think nobody was waiting for this EP. Sacred Warpath isn't the right appatizer for me... I'll keep looking out for the other songs on a new album to come.