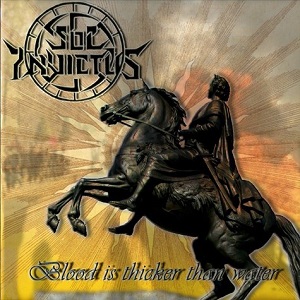 Album Title:
Blood Is Thicker Than Water
Release Date:
Saturday, September 30, 2017
I used to be a 'fan' of Sol Invictus, but then I am talking about the project by Death In June's Tony Wakeford (and apparently they reformed once more – but that is another thing). Another band with this moniker will be my next Sol Invictus adoration. This time I am talking about an international project, consisting of Uruguayan multi-instrumentalist Lord Wolf Alexander (strings and vocals) (he's in Opus Diaboli as well, and used to have a solo outfit called Wotan Wolves), and French (female) drummer Aksaya Fy Aya (of Aksaya-fame, ex-Malesanctus). I will, by the way, write and publish a review on a (new) release by both Aksaya and Opus Diaboli soon - but that's for later.
Blood Is Thicker Than Water is the first album by this duo. Everything was written and performed by both members involved. The release gets done by a collaboration of Polish (top) label Lower Silesian Stronghold and Holland's (top) label The Ritual Productions. Hail to both of them! It gets released in an edition of 500 physical copies, which is a 'normal' jewel-case compact disc that includes an eight-page booklet. That booklet includes the proud and combative lyrics (in English, French and Spanish) of the five tracks, and sober yet attractive and intriguing artwork. The cover painting, by the way, already shows the heroic and proud approach of this two-(wo)man army.
Blood Is Thicker Than Water (mine is not, but that's because of semi-intravenous alcohol consummation) brings forth five epic pieces, melodic and fast, rhythmic and powerful. They come with a very decent sound, and this might my personal point of criticism: a sound way too decent to mu opinion. The production is very clean, close to clinically clean, and within the Black Metal trend, I think some rawness needs to exist. Okay, it is not über-polished in production or mix, but I do miss some grimness. But hey, that isn't but a personal opinion, and not decisive, of course. Besides, the mixture has been accomplished very professionally, which means that all instruments are equally represented.
The material, as said, is epic, melodic, fast, rhythmic and powerful. When it comes to the speed, the better part balances in between up-tempo and almost blasting. There are a couple of decelerations too, bringing a nice counterpart to the expressive and explicit heaviness of the tempo. Within the fastest parts, the skills of Fy are explosive and militant, but without some brute blast-salvo simplicity. No, this woman surely is a skilled skin-whopper, and since the drums are mixed so nicely within the whole experience, it is remarkable. The melodies are plenty, for the structural basics are created around melodious and epic guitar lines especially. The twin riffing and leads come with a pride attitude. In an important supportive way, the rhythm guitars and bass guitars follow the very same pattern, here too honoured by the equally divided presence in mix.
L.W.A owns a very specific vocal timbre, since the instrumental approach has a certain catchiness, his sore screams act like a malignant counterbalance. His blackened screams are quite pure, I mean that they lack of a wretched or tortured tangle.
Sol Invictus do not exactly renew the scene. Yet you cannot place them in one or another specific sub-trend within the Black Metal scene either. There is a lot of 'tradition' going on, as well as a huge dose of dissonance and eccentricity. Classic guitar riffing goes well with a progressive rhythm section, and universal song structures are distinctive from the masses by the huge variety in speed and melodicity. That's a surplus, for this band has constructed an own identity, even though that this album isn't but their debut. I think the duo has not given the best of them yet. Sometimes I do miss some depth, something that totally blows me away. That is not the case yet. But I think that Sol Invictus might impress much more by knowledge and experience. Maybe a less catchier performance and a dirtier sound next time, and I am in all over again! Until then, my benefit of doubt…