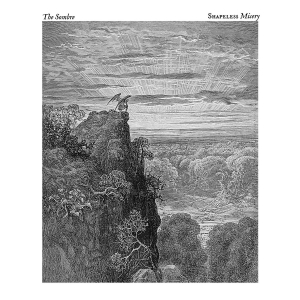 Release Date:
Wednesday, November 4, 2020
I restarted this introduction a couple of times. Why? Well, how do you introduce a (talented [*]) musician who is so diversified, active in different disciplines and genres which undersigned might appreciate, well, about all of them? So, I decided to keep it brief. The Sombre is one of the many outfits of Dutch artist Maurice 'Mories' de Jong, active in tens of interesting projects. That list is quite lengthy, so I'll sum up a handful of memorable entities this guy is involved with: Gnaw Their Tongues, Aderlating, Grand Celestial Nightmare, Vetus Sepulcrum, Soulwound, Golden Ashes, ah, you know, I can go on, but it has no value; I'd list them all up, or I leave you craving for more. Since I am too lazy right now, I won't sum them up any further, so I leave you hungry and confused…
((([*] mijn beste Maurice, dit is geen cynisme (smiley inbegrepen) maar een voorzichtige inschatting…)))
I do not know when Maurice started this specific project, but I think The Sombre is a young outfit. Under this moniker, there was a first full-length album in June 2019, called Into The Beckoning Wilderness (re-released very recently, so expect a review for that re-issue soon), and at the very end of Autumn 2020, The Sombre came up with its successor, called Shapeless Misery. For this release, The Sombre signed to Italy's Brucia Records (this label will also release an upcoming album for another project by Mories, Cloak Of Altering, by the way). It got released digitally, evidently, as well as on tape (wrapped up in a tape-sleeve and a silver / transparent bag and including a picture card) and on compact disc (digipack, including the lyrics). The latter, however, is strictly limited to an edition of 100 copies, the cassette edition even to only 50 copies. It comes with remarkable and recognizable cover artwork by French visual artist Gustave Doré once again.
The six new pieces, which clock about thirty-six minutes (they last in between five and seven minutes), were recorded in Spring 2020 in the city of Drachten in the Netherlands, and they do continue the magnificent trend of The Sombre's debut Into The Beckoning Wilderness. Opener A Terrible Silence From Above (with its length of seven minutes, it's the longest piece on the album) soon shows the core of what The Sombre stand for. Okay, the project's moniker does not promise sunshine and happiness, but my first thoughts immediately moved over to the likes of My Dying Bride. Not bad, is it?... And that is exactly how things evolve. Without just copying this legendary English band, The Sombre find a huge inspiration right here, to my opinion. It goes for about all tracks, yet this one in particular. That's clear as from the opening sequence: those Gothic dual guitar leads, that peculiar drum-work, the down-tuned rhythm guitar- and bass-lines, yet also the slow tempo, the ultra-heavy performance and the sober atmosphere. When the first voices arrive, my idea gets strengthened: spoken words with that 'crooning' timbre, not that strange when referring to Mister Aaron S.. And then, those lyrics, well, is there any chance that Maurice just coincidentally performs this kind of Music, or do My Dying Bride inspire his song-writing? We all know the answer… After about one third, the piece evolves towards a nastier passage, including those characteristic twists and down-earthed riffage reminiscent of, indeed, that one. And when the growling vocals arrive, the pleasure is all mine! You know, somehow The Sombre is able to gather relative emotions, like tristesse, aggression and soberness, all in once, translated via quite orthodox yet truly majestic Doom Epic. I cannot, and will not, call this first track like a copy of My Dying Bride; The Sombre surely are no cheap clone, but they do manage to reinterpret the influential core of My Dying Bride without downplaying the scene.
Does it go on the very same way? Well, yes and no. I mention 'no', for Shapeless Misery has more angles to approach this Aural Art. As said, a couple of compositions, like that higher-mentioned and modestly-thorough dissected opening track A Terrible Silence From Above, are strongly inspired by My Dying Bride. Of course, the subtle use of violins (or at least something that sounds alike) simply agree with my thoughts. Besides, this project totally dwells in dimensions that exhale the inherent and explicit beauty of the Nineties-oriented Doom-Death scene; not that poppy, catchy and fake sub-genre that made it to major label deals; no, I am talking about the 'true' basement of the scene, which was, back then, oh so breath-taking (cf. the UK, Norway, the Netherlands, Finland, you know what I am talking about, don't you). It withholds the tradition of the Old School, and without a very decent production, nothing reminds of our current modernistic society.
The spine of the album is built around dreamlike melodies in the first place, heavily supported by a monumental rhythm section and varying voices. For a one-man army, the result sounds incredibly organic and 'full', as if there was a whole orchestra assisting during the recording sessions. …which also easily leads me to a short interpretation of the sound quality: great production, well-balanced in mix  and decently proportionated when talking about lead and background instrumentation. Ah, enjoy those cool droning bass lines, for example, in An Untameable Desire, at a certain moment sensually playing with synths and violins, yet not giving in to self-betrayal. This specific song, by the way, also deserves some additional attention, because of a handful of incredibly breath-taking elements: a couple of blackened screams, hypnotic tremolo leads (those solo-alike leads are just memorable, covering me in a veil of both sensitive warmth and icy nostalgia), unique drum patterns,
I am surprised the positive way that Mijnheer de Jong sort of 'returned to the roots', with two meanings. First of all, this project is like a tribute to the so-called Peaceville Three (My Dying Bride, Anathema and Paradise Lost) (I actually never liked this description, for it ignores the importance of a fourth excellent Doom-Death act from that very same era, (early) Cathedral, even though that one wasn't on the Peaceville label; yet then again, this isn't but my personal opinion). It represents the finesse of that influential tradition without sounding like some cheap copycat. Even the lyrical side refers to My Dying Bride and the likes, dealing with sorrowful tears, nostalgia / melancholia, wine and lust, you know, the sweetness of loss, grief and desire. Secondly, Maurice used to play comparable stuff during the first half of the Nineties under the flag of Cauteror and Soulwound. With some fantasy, there are certain parallels with these two old acts and The Sombre.
FFO: My Dying Bride, Evoken, Eclipse Of The Sun, Lycanthia, Swallow The Sun, NovemberS Doom, Evadne, (early) Anathema, Majestic Downfall, Ephemeral Ocean, Atten Ash, Saturnus and the likes…
Coming up soon: my review for the debut Into The Beckoning Wilderness, very recently re-issued, and a review for the new album under the Grand Celestial Nightmare moniker…
https://bruciarecords.com/releases/the-sombre-shapeless-misery/
https://bruciarecords.bandcamp.com/album/shapeless-misery
https://gnawtheirtongues.bandcamp.com/album/shapeless-misery
https://www.concreteweb.be/reviews/aderlating
https://www.concreteweb.be/reviews/gnaw-their-tongues
https://www.concreteweb.be/reviews/gnaw-their-tongues-1
https://www.concreteweb.be/reviews/gnaw-their-tongues-0
https://www.concreteweb.be/reviews/cloak-altering