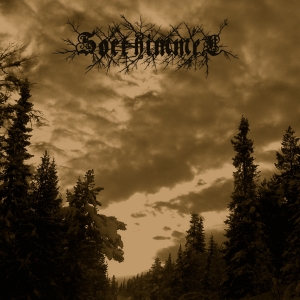 Sort Himmel is the name behind a new solo-outfit of Armando Luiz (think Servi Diaboli, Nihil or Obitus Vitae), a guy from Brazil who currently lives in Norway. He released / releases three tracks as demonstrational record via Cold Raw Records on CD (very limited!) (oh yes, let's not forget to express gratitude to this label, once again!), and the same stuff sees / saw the (un)light in a self-release edition the digital way. Everything was written and composed (all instruments + vocals), recorded, produced, mixed and mastered by Armando himself at his Scaevus Studio, with exception of the lyrics, which were written by Marcos Garbini (he wrote some of the lyrics for Servi Diaboli too, by the way).
Three compositions adorn this untitled demo, and as from Under The Shrine Of The Moon, one might notice the purely Nordic-styled supremacy of the Second Wave. Indeed, I am convincingly referring to the Norwegian scene especially during the first half of the Glorious Nineties. It means a lack of originality, but what Armando creates under this moniker is at least as impressive as, let's say, the likes of Darkthrone, Enslaved, Gorgoroth, you know what I mean…
Unless lacking of 'originality' (but then again: what the f*ck does it matter???!!!), Sort Himmel's compositions are quite varying in tempo and structure. Each song has different levels and pieces fluently woven together, but all three of them do vary from each other too, without lacking cohesion. And my appreciation goes further. Despite not having a renewing approach (once again: who cares about that anyway), I think that each single piece on this demo would have become KULT if written / recorded / released two / two and a half decades ago. No sh*t, no kidding; that's the awful truth! The whole even comes with that specific epic-melodious approach within the more quiet excerpts, focusing on perfectly executed trem-melodies and, as said before, quite some variation in speed (for sure a highlight on this recording!).
I do not know if there is a full length supposed to be in the future, but if so: hail!