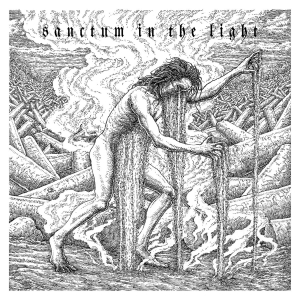 Release Date:
Wednesday, October 7, 2015
Of Spire & Throne are a Sludge / Doom act from Edinburgh, Scotland, that released several EP's before (and a split with Ortega, another fine band on their current roster, Aesthetic Death). With Sanctum In The Light, the trio releases its first full length CD. It was recorded by Matthew Davies (bass), Ali Lauder (guitars, vocals, harmonium and keyboards), and Graham Stewart (drums, guitars, synths), including session assistance on guitars by Martin Guillaume of Haar / Acatalepsy / Barshasketh-fame. Everything was produced, engineered and mixed by Chris Fielding at the Skyhammer Studio (think: Winterfylleth, Neuroma, Conan, Primordial, Electric Wizard and many more), with additional recording at the Wall Of Sound Productions studio by Stuart Gordon (formerly of Jackal-headed Guard Of The Dead and The Tyrant Lizard Kings), and finally it got mastered in (early) Spring 2015 by James Plotkin, known for his mastering duties for material from bands and projects like thisquietarmy, Conan, Alkerdeel, Stumm, Theologian and many, many more…
Sanctum In The Light lasts for fifty four minutes, which counts for four lengthy pieces (in between eight and nineteen minutes). And as from the very beginning it's clear the band goes on in the vein of their former efforts. Funeral Doom, Traditional Doom, Epic Doom, Doom-Doom and Doom-Doomier-Doomest Doom, with elements from Sludge, Drone, Black Noise Doom Sludge Drone Doom Grimness and, indeed, Doom Metal, are woven into an impenetrable web of majestic and gargantuan grimness, darkness and heaviness avant, and après la lettre. It's like Esoteric, Sunn O))), Alkerdeel, Sourvein, Mekigah and Wreck Of The Hesperus joining forces to create the ultimate definition of Aural Dark Art.
The main structures are based on melodious yet somewhat repetitive riffing and a couple of hypnotic leads, in combination with a mostly intense, sometimes little Stoner-laden rhythm section and tortured / torturing grunts / screams. The main tempos vary in between ultimately slow and purely utterly slowed-down, with once in a while a faster piece; but beware: faster means nothing else but heavily decelerated! On top of it, Sanctum In The Light's sound quality is of an extremely skull-crushing, bone-breaking quality (and this is meant the positive way), which does strengthen the morbid intensity and overpowering heaviness of the whole experience.
Besides, two pieces are instrumental, but instead of vocals they do include hints of Dark Ambient, Industrial Noise and Minimal Drone – and this goes for some excerpts within both other tracks as well, by the way. And there's even more to experience, like the Acid-Stoner / Post-Prog introduction of Upon The Spine, for example.
Seriously, many comparable efforts are great but might lack of variation, originality, braveness or the capability to keep the listener's attention. Of Spire & Throne once again succeed to trespass the limitations of the scene by being pro-active and unlimited in both song writing and performance.