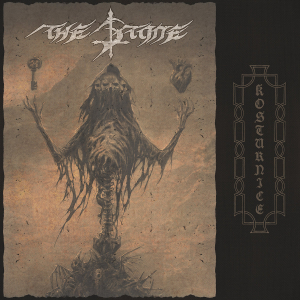 [[[ I am 'into the scene', if you want to call it this way, as from the Eighties. Hey, don't laugh; I know that I'm getting old, but that is not my fault, okay. Anyway, (Black) Metal is like a passion, my lover, and with exception of my wife + kids also my daily number one satisfaction. I do follow the scene for more than three decades; I do promote and support it as from the end of the Eighties (back then, I used to have an own distribution label for demos -on tape or vinyl (compact discs weren't invented yet, and digital was like a futuristic vision- and a magazine -on paper, for the Internet did not exist yet). Yet still, at this very moment, I can be surprised by bands that did somehow dwell around back then, which I did not come into acquaintance yet (no idea if this last phrase is actually acceptable English or not). Or, in short: I thought I did not know The Stone, but apparently this act exists for about twenty-five years in the meantime. I sort of 'missed' them for the better part, but they seem to be quite 'popular' somehow – especially, evidently, in their home country. So, first a short introduction. ]]]
The Stone hail from Belgrade, Serbia, and were formed in 1996 or so, though under another name (Stone To Flesh). Their concept was created around Slavic pride with a deadly execution in style, which initially continued the very same way after the change of their name (reason: I have no idea; yet then again, it does not matter). At the very beginning of this century, Stone To Flesh became The Stone, but the main basics remained: stable line-up initially, comparable song writing and same-minded concept. But slowly on, things evolved, even though the 'roots' got never betrayed. Anyway, throughout the years, this band recorded and released several hands full of things. As said, I had almost no idea, but right now I am delving deep into their history, because I am triggered by what I hear on Kosturnice. I just found out that I once bought / and reviewed / their Magla release – but that's been so long ago…
To get on without dancing around some extinguishing fire: Kosturnice apparently seemed to be my first acquaintance with The Stone for a long time (in the meantime, I investigated and explored, you know…), and I am so pleased that this Serbian band finally gets the chance to express their craftsmanship via a mature channel (Immortal Frost Productions; sounds almost kinky, 'a mature channel'…). Why? Well, actually for being so uncompromisingly straight-forward and uncomplicated. Because that's exactly what this quintet brings. They have this x'th (9th?) album recorded with Honza Kapák (on this album, he took care of the drums and percussion, by the way), and they did sign to Flanders finest Immortal Frost Productions for both the digital release, as well as the physical one – the latter being on compact disc (1,000 jewel-case and 500 digipack copies with a twenty-page (!) booklet and poster) and vinyl (three different yet limited formats; 333 copies).
Kosturnice, having a total running time of three quarters of an hour, combines past and present. The band's performing approach and sound are what one might call 'orthodox'. This is quite traditional sounding Black Metal with a universal attitude, yet strongly inspired by the North-European scene too. When analyzing the drum patterns (as said, performed by producer / mixer Honza), for example, I must often think about the Swedish scene; especially within the devastating and blasting salvos. Fast-forward, militant, blustering, these drums act like an inevitable avalanche, demolishing and dragging along everything that comes on its way. But at least half of the time, the whole percussion performance does quite the opposite. Organically in balance with those all-annihilating assaults, many moments bring such brilliant drum-work, as if this instrument creates his own hymnic anthem. Double-bass, cymbals, toms, snare drum; every single piece gets translated as if it is a whole orchestra 'an sich'.
Anyway, Kosturnice stands for more than great drum-work, evidently. The intense material comes with a well-thought equilibrium in between dynamic force and melodious finesse. Believe me if I say that this stuff is energetic and harsh. Fast finger-work on strings with a mardukian power gets smoothly combined with somewhat hypnotic (tremolo) leads, once in a while injected by well-executed soloing, and more than occasionally coming up with somehow a discordant play. The wall of sound caused by the string session (Marko 'Kozeljnik' Jerkovič / Marko 'Demonetras' Obradovič / Miloš 'Vrag' Živič) gets strengthened by the professional sound quality, I mean, lead, rhythm and bass guitars are so clearly represented. …which easily brings me to what I mentioned in my former paragraph: the 'present'. The mix and production are simply top-notch. There are no faults, no irritating noises on the background, no unbalanced proportions whatsoever. And at the same time, the whole withholds a certain roughness too, an unpolished asperity and crudity, exacerbating the timeless rigor for sure. That rawness is audible too through the raspy, sordid, all-defiling throat of Marko 'Glad' Glamošlija. The latter preaches blasphemy, worship of unholy entities and demonic deities, and total intolerance and misanthropy (instead of the rather folkloric concept from the past, although the heritance of their Slavic roots do still return lyric-wise once in a while). The lyrics are sung – oops, 'sung' is not exactly the right description, so I'll start all over again. So, the lyrics are spawned and puked in Croatian (not Serbian!) especially (a couple of tracks are in English), so I do not understand what it is all about. But my belly-feeling, assisted by Google Translate (grim-looking smiley included), learned me that this stuff does not deal with cute puppies playing in one's garden, cultivating multi-colored flowers in that very same garden, or having fun on some tropical beach.
Kosturnice is not a renewing album. I do not care; I do not necessarily need to 'enjoy' progressive modernism. At the same time, this quintet created a very solid album that, despite the lack of originality, carries an own-faced identity. The Stone know how to perform rather traditional sounding (read: Second Wave-inspired) Black Metal, injected by some hints of Blackened Death and even Post-Black Metal. This album has no relapses nor downsides, which leaves me in conclusion: worthy stuff for the Black Metal adepts amongst us. Nothing more, but certainly nothing less either!
https://smarturl.it/Kosturnice
https://www.youtube.com/watch?v=hF5kU0fWfJw
https://www.immortalfrostproductions.com/releases/the-stone/the-stone-kosturnice-cd-digi-lp/
https://digital.immortalfrostproductions.com/album/kosturnice