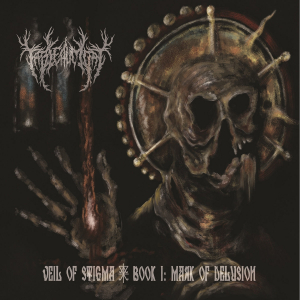 Album Title:
Stigma Book 1: Mark Of Delusion
One of the very few non-Romanian bands on Loud Rage Music is Tableau Mort from London, UK. Yet still there's a link with Romania, for founding member and lead guitarist Christian Giurgiu was born in a city in the North-West of Romania. In 2018 and 2019, this sextet released some preview single tracks on their upcoming album, which has been finished in between Summer 2018 and early 2019. The recording duties were done by guitar player / keyboardist George Topor and Jerry Sadowski, and mixed + mastered afterwards at the Parlour Studios with Neil Haynes (think: Twelve Boar, Orpheus, Formicarius, Deathronic and many others). Along Christian and George, this album's line-up consists of vocalist / lyricist James Andrews (who left shortly after the recording sessions), bass player Marek Basista (with Polish roots), George Bratosin on drums (also having his roots at Transylvanian soil), and guitar player Radu Vulpe (idem, born and raised in Romania; left the band as well shortly after the recording sessions were completed).
Stigma Book 1: Mark Of Delusion is Tableau Mort's debut full length studio album, released digitally and on compact disc – the latter containing an eight-page booklet. The distributing duties are courtesy of Loud Rage Music, which is, to my opinion, one of the most modest and underestimated labels from East-European soil. The album, by the way, comes with cool cover artwork by Night Temple Design's Alex Shadrin, vocalist in e.g. Goatpsalm, Sickrites, Vhorthax or Izakaron, and artworker for albums by notorious bands like Azaghal, Sickrites, Zalmoxis, Cosmic Void Ritual or Order Of The Nameless One.
Oh yes, the inspirational sources, lyrically and spiritually, dwell within spheres of Orthodox religion, the Romanian Orthodox church and all symbolism, rites and stuff related. Does it bother you? If yes, please stop reading; if it does not create some nauseous feeling, you might find out that this release might turn out quite impressive at last. Actually, Tableau Mort is French for 'death painting', referring to visual art, often religious or mythological in content, about the death of a divine being, a hero, a god / goddess, a disciple of a higher entity, a saint, you know what I mean…
Also sonically, you will find elements of this semi-religious influence and inspiration. But let's focus on the main principles at first. What Tableau Mort bring is a very melodious form of timeless Black Metal with a huge variety in speed. It goes from mid-tempo to energetic, with doomed passages at the one hand, and blasting eruptions at the other too. …and everything in between, and beyond. The drum parts surely accompany that tempo, for the energy, execution and patterns somehow do colour that definition of fastness: thunderous and unstoppable from time to time, integer and repetitive during more sober moments, and so on. To be honest, I think the drums on Stigma Book 1: Mark Of Delusion are one of the main forces to define this band's attempts.
But there is more, evidently. The better part is based on high-melodic tremolo guitar riffing, multi-layered, with accentuated riffs, throat-grabbing leads and duelling soloing. Used as introduction, intermezzo or outro, as well as being the spine of each single composition, the guitar basements are of huge importance. As mentioned, those strings are like the core of this sonic experience, but at the same time they are part of the organic totality too, where all other instrumentation gets its place too. I did mention the drum parts, but the rhythm guitars and bass lines too are not ignorable at all, for they empower the vigour, the kinetic temper. And then I did not mention the use of the synths yet. Stigma Book 1: Mark Of Delusion is not a synth-driven release – the use of keyboards, or acoustic passages, is limited – but when used it gives the whole some divine, ethereal, almost spi/ritual attitude. This thing too glorifies the well-balanced equilibrium in between the devoted approach at the one hand, and the morbid, merciless f*cked-up attitude at the other.
Vocal-wise, the main deal is quite reassuring: barking, grim screams define the mass-hysteria, the frenzy sensation of forced (or narrow-minded) religion, or those things we might not understand about it (!). James Andrews is a convinced preacher of symbolism for sure. But a nice detail is the use of some clean voices and chants, from whispers to Gregorian elegies used throughout this procession. Ah, it seems so easy to fix this transcendental puzzle…
I think I've written down the bubble in which this release floats around. Stigma Book 1: Mark Of Delusion is a 'traditional' recording with some very own twists, a semi-religious character (not purely Satanic this time, but delving deeper into the sources of monotheistic belief), a huge dose of variety in tempo and structure, and a massive sound quality. It might not be the most renewing release for sure, but those who just like it raw, traditional (I mentioned the word 'orthodox' before) and uncompromising, yet still technically high-skilled and melodic-harmonic, with lyrically high-levelled content, will adore this piece of Aural Art for sure…
https://loudragemusic.bandcamp.com/album/tableau-mort-veil-of-stigma-book-i-mark-of-delusion
http://shop.loudragemusic.com/tableau-mort-veil-of-stigma-book-i-mark-of-delusion
https://tableaumort.bigcartel.com/?fbclid=IwAR277V4wGRSAEN6NNxLEENHAatz53XhDrR5jRjdrnVfTFHpjhcT-gBwS5bY