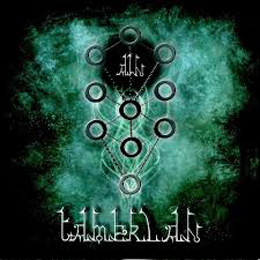 I was quite surprised when I received this album, because Debemur Morti Productions are a label I do refer to Black Metal in general, and Tamerlan are an acoustic Neo-Folk project. Yet at the other hand, the border in between (Black) Metal and Neo-Folk isn't but an imaginary and subjective element. Okay, the Music itself does differ, but there are lots of connections in between both genres: shared artists / musicians, comparable lyrical concepts and, of course, many other labels that do house bands and projects from both these aural styles. So don't scare…
I am always anxious too when I need to review a Neo-Folk release, because more than once it does bore the Hell (another reference to the Black Metal scene, haha) out of me. Dull repetitive acoustic guitar pickings with false voices and infantile lyrics; it is rather a curse than a blessing. However, more than once I am truly thrilled by this genre too. I can sum up hands full of bands / projects that are enormously interesting (once again: it isn't but a personal opinion, for 'liking' something is a subjective data), and Tamerlan (named after an Asian warlord who lived in the 14th century) surely are part of this list. The project is formed in 2005 by Serbian-Russian musician Timur Iskandarov, and under this moniker Timur released three albums before, amongst which a split with Hoyland and Melankolia (via another great label, Naturmacht). This new full album was recorded by Timur at the Sombre Soniks Studio, and comes with artwork done by Arcana's Cecilia (who also contributes as guest vocalist; see below).
 The mainly acoustic album Ain lasts for thirty eight minutes and opens with Eternal, which features Sol Invictus-members Tony Wakeford (formerly also in Death In June or Crisis a.o.) and Lesley Malone (also in Seventh Harmonic). I guess it is mainly because of the vocals, but this track reminds me a lot to Sol Invictus. Initially it's sober and melancholic, yet truly beautiful and organic, while the second part is little faster. Next song is The Countless Reflections Of Non Matter, one of the songs featuring Cecilia Bjärgö (Arcana, Sophia) on vocals. This song is more esoteric and ethereal than the opener, and closely related to the so-called Heavenly Voices-current. Dance Of The Twilight Stars features Mike O'Brien of Melankolia-fame on keyboards. This cover song of Hoyland is an instrumental one with a very minimalistic and traditional Neo-Folk approach, rather melancholic than epic. And this goes as well for several other tracks: the short shamanistic-ritual My Estranged Sanctuary, The Inner Sunrise Ritual, with hints of early Ordo Equilibrio (yet without the typifying yet magnificent lyrical approach of this Swedish project), or Thus The Soul Awakens (the only 'boring' song on the album). Thy Kingdom Come is one of the most spiritual and mystical songs on the album, with guest vocals by Loell Duinn's Olja Frolo and modest yet great tribal percussions by Mattias Borgh (also of Arcana-fame), and it is, compared to the rest, the most up-tempo one too, I guess. The hypnotic track Children Of The Lesser God, in one way or another, does remind me to early Dead Can Dance), with its Arab-alike chants. Ignite The Dawn, finally, reminds me of some mixture of earlier Dead Can Dance and early Ordo Rosarius Equilibrio (when still active without the 'rosarius'-banner), mixed with elements of Tenhi and Death In June. This song also features Cecilia as guest vocalist, by the way.
Anyway, if you are into the likes of Sol Invictus, While Angels Watch, Death In June, Tenhi, :of the wand and the moon:, Nest or Orplid, then you will surely appreciate this newest Tamerlan-effort.