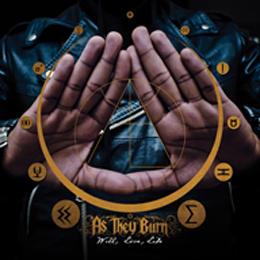 Release Date:
Tuesday, February 19, 2013
Hailing from the city of love and light, Paris, As They Burn are the newest sensation in the deathcore genre. Think of a mixture of the fury of Emmure and the heaviness of country mates Gojira and you'll end up with As They Burn.
Will, Love, Life is the latest release of these Frenchies and they really pound through the record with a ridiculous force. They aren't the fastest shredders, but they are heavy-weight champions in combining a certain progressive metal influence with hardcore breakdowns. Just listen to songs such as Dream Collapse. While listening, you nearly experience the feeling of dying and entering a wonderful world.
Open-minded hardcore and metal fans will definitely dig Will, Love, Life. As They Burn is on a warpath, that's for sure. Don't forget to catch them throughout Europe on the Bonecrusher Fest tour alongside Job For A Cowboy, Beneath The Massacre, War From A Harlots Mouth and many others.