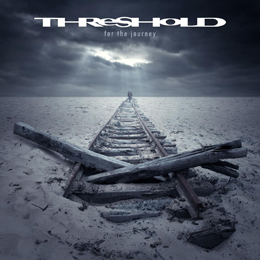 Release Date:
Friday, September 19, 2014
Line up :
Damian Wilson - Vocals
Karl Groom - Guitars
Pete Morten - Guitars
Steve Anderson - Bass
Richard West - Keyboards
Johanne James - Drums
Firstly don't settle for the standard edition of the new Threshold album For The Journey, you simply must get yourself the bonus track version. "I Wish I could" is one song that is not to be missed, far too good to be relegated to extra status. Then sit back and enjoy For The Journey one of the best progressive metal releases since well the last Threshold studio release March Of Progress. Though Threshold's many fans will no doubt be very impressed with what the band has achieved with For The Journey. March Of Progress marked the return of vocalist Damian Wilson, so combined with their wonderful harmonies Damian's return ensured that Threshold still delivers some of the finest vocals in the business, all here to be heard on For The Journey.
Opener Watchtower on the Moon is typical of the Threshold sound, from the songwriting to the execution, each part honed to perfection with a sense of urgency. This is Damian Wilson's second album with the band since he returned and he continues to put his mark on the Threshold sonic landscape, his voice being unique enough to be recognizable and melding perfectly with the music. Turned to Dust, though, is my choice as the top song on For the Journey. Interestingly (or not), it's the shortest song on the album, but features the heaviest riffing and a plethora of sweet vocal harmonies, and songwriting you can sink your teeth into.
On a number of songs, Threshold seems to have taken a distinctly melancholy approach to their song craft with an atmosphere a bit darker than some of their previous work. Unforgiven is just one of those tracks with a degree of darkness. A generally slower pace dominates these tracks adding to the sullen mood. Lost in Your Memory comes across as a sad ballad with a sense of longing. The vocal harmonies are nicely done, while the song itself has a very 70s feel to it. The Mystery Show is in the same vein, but not quite as interesting. In fact, it kind of drags along and doesn't do a lot for me.
Autumn Red, though dark in places, has more of a positive feeling and great riffing in the pre-chorus. In fact the guitar work, though not exactly explosive or acrobatic, is terrific and makes for a very solid song – one that continues to grow on me. Siren Sky, though musically it drags a bit during the first half, the lyrical melody and lyrics themselves are comparatively uplifting and positive in nature. A fitting way to close the album. The Box is a 12 minute long truly progressive track, exploring a wide array of musical style and interesting lyrically. There is a lot going on here from the piano led intro to the syncopation and odd time signatures used throughout. The guitar leads are extensive and masterfully crafted by Karl Groom and Pete Morten.
One thing I will say about Threshold in comparison to say Dream Theater is that if I look back through their albums Threshold are the more consistent of the two. As I never tire of listening to their releases which is something I can't say with all of Dream Theater's back catalogue. I'm sure For The Journey will be no exception and that I wont be alone when I write that For The Journey is one of premier music releases for 2014.
Tracklist:
Watchtower on the moon
Unforgiven
The box
Turned to dust
Lost in your memory
Autumn red
The mystery show
Siren sky
I wish I could (Bonus)