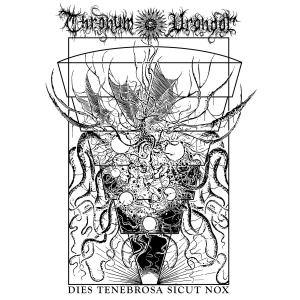 Belgium in general (and Flanders more specific) might not be that 'huge' as, let's say, Norway, the U.S., Poland, Sweden or Botswana when it comes to 'true' or 'orthodox' Black Metal. However, this country houses so many excellent acts for sure. That's the case right now, as it was in the past. It would be a stupid thing to sum up all bands and projects that deserve to be mentioned, but as part of that (unlimited) list, Thronum Vrondor must be added for sure.
Actually, Thronum Vrondor were quite 'big' (at least in their home country) during the first half of this century, but the members did deserve some worthy attention before (or at the same time) via some other notorious acts, such as Grimfaug, Anesthesy, Paragon Impure or Impedigon. Back then they did record and release two very nice albums (personal opinion, but it was quite impressive) via two fabulous labels from that era (and beyond), Epitaph Of Mass Destruction (Goatowarex) and Conducting The Orchestra Of Evil (Total Holocaust Records). Unfortunately, things seemed to fade away into deafening oblivion…
Years passed by, and original members Crygh and Vrondor sort of recruited SvN (who was involved with the likes of Impedigon, Fleshmould etc.) to take over the vocal (and lyrical) duties. The first collaborative result of this triumvirate got canalised in 2019, about ten years after Thronum Vrondor's last release, under the moniker Ichor (The Rebellion) (Pulverised Records) [it's a pity for undersigned that I did not know about this 'resurrection' until now, since I was sort of a 'fan' after their first efforts, but I will surely look after that recording immediately!]. And now the trio comes up with a next full-length, called Dies Tenebrosa Sicut Nox (meaning something like 'a day as dark as the night', if I do still remember my Latin lessons at school many centuries ago).
For this release, the band signed to the mighty Immortal Frost Productions label, run by Ars Veneficium's Surtur. The result comes in three different vinyl editions (the 'regular' black one and two limited editions) and on compact disc (with a twelve-page booklet), all coming with artwork by Chris Kiesling aka Misanthropic Art, + design / layout by long-time collaborator Marko Jerkovic. The cover artwork is quite 'simplistic', in black-and-white', but somehow it intrigues and impresses. It does refer to occult spheres, and that's exact the direction foreseen, with in-depth symbolism accompanying the apocalyptic / nihilistic / misanthropic concept / texts of the album (a continuation of the visual art of the former album).
Dies Tenebrosa Sicut Nox takes of with To Eternal Fire, which opens with a truly cool intro: martial drum patterns, soon followed by dark-edged, heavy synth-lines and then something like a mesmerizing war-horn. Silence before the storm… Indeed, because then all Hell breaks loose.
With this album, Thronum Vrondor show their crafted skills once more, with an increased technical approach. Their material is quite 'orthodox' in nature, but it trespasses the borders of this sub-scene with their unique song-writing (lots of variation in structure and speed), their well-balanced equilibrium in between atmosphere and intensity, their skilled performance, and a well-considered technical finesse. Take that opening track, for example, with that intriguing introduction. As soon as that intro turns into this band's sonic core, fierceness and intensity are the first impressions coming to mind. Yet soon that Fingerspitzen-play takes over the wonder. It's like a mixture of the tradition of the Second Wave with a contemporary technicity, expressed via well-thought leads (including some hypnotizing tremolo riffs), sudden breaks and accelerations, and intelligent execution techniques. [I think it might be quite appropriate to refer to the first efforts of another top-combo from Flemish soil, Panchrysia, for what it's worth!] At almost half of the track, everything suddenly, yet organically, slows down, creating an overwhelming passage with unique drum-work and intoxicating strings, before moving over once more into a faster, devastating fragment. This goes on and on, with so many levels, so many things to experience, such deep-going concept, and I am still talking about that first track.
This opener wasn't just 'a lucky shot', for the whole album goes on in a comparable vein. The guitar-work, i.e. the melodious basement of the album, carries the whole adventure, with prolific leads, bewitching tremolo / twin play, and vivacious melodies. There is sort of a 'progressive' approach, not as in 'Progressive (Black) Metal', but it is remarkable that past and present are so subtly (actually it is not that subtle) interwoven with each-other. The support of the rhythm and bass guitars is of a non-deniable importance; oh, what a fine thing to hear those basses supporting the aural foundation with pride and conviction. More than once, it does turn the whole towards truly epic proportions (cf. a piece like Worms). SvN's throat, by the way, is one of the most powerful ones I heard. There is a raspy, hoarse aspect, almost gurgling, and it comes from deep, so deep. Rarely this voice sort of 'guts' into a seldom scream too, strengthening the malignant and bleak identity of certain fragments. The percussion pursuance too is top-notch, with such incredible variety: often mercilessly blasting, like a pyroclastic eruption, then again militant, pushing and / or sublime supportive. Cymbals, drums, bass-drums, toms, every fraction gets beaten, molested, raped (enjoy that opening sequence of Cleans This World Of Filth and you'll get it); then again caressed with tenderness, or sounding ingeniously discordant. And as mentioned, all these 'individual' instruments work like a well-oiled machine of finesse.
The production is sublime, just sublime. The sound is full and powerful, lacking irritating background noises, and still maintaining a (necessary) roughness (no über-commercial clinical over-production, which makes me sardonically smiling). As a result of this fine-tuned production, the mix pays attention to all individual elements / ingredients. Bass guitars, vocals, lead and rhythm string-work, drums and percussion; all of them are perfectly balanced, smoothly audible; none overruling the other, yet all of them working together as a symbiotic organism.
I do have, however, one negative remark. Thirty-seven minutes; it's way too short. This said…
http://smarturl.it/diestenebrosa