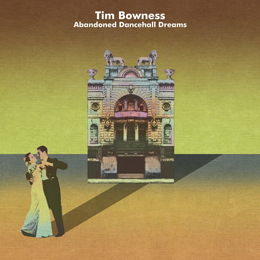 Album Title:
Abandoned Dancehall Dreams
Release Date:
Wednesday, August 27, 2014
When introducing North West English singer (and occasional guitarist) Tim Bowness, labels have a tendency of placing his most noteworthy accomplishments in the first place...but I'm a bit of a weirdo, so I'll do things differently (besides, it fits into the flow of this article anyway)!
Bowness started his career in the middle of the '80s (making his recorded debut on the 1986 album Another Beauty Blooms, which included musicians Ian Simpson and Mike Bearpark), and recorded the collaboration album Flame with Porcupine Tree/ Japan/ Rain Tree Crow keyboardist Richard Barbieri, released in 1994 though the renowned One Little Indian imprint. He has guested on albums by equally renowned artists, these including popular Italian band Alice (their 2003 album Viaggio In Italia), OSI (2009's Blood), and guitarist David Torn (euh...sorry, info lacking here as to on which album of the latter that was). Bowness also guested as singer on one track of Rosario Cosentino's 1997 album Ones And Zeros, guested (3 tracks) on Rajna's 2008 album Duality, put his distinct vocal signature on one track of Nosound's 2008 album Lightdark, and not only co-produced and co-wrote former Fairport Convention Judy Dyble's 2009 album Talking With Strangers, but also was a vocal guest throughout the album (that album, by the way, also features contributions from Robert Fripp, among many others).
Bowness has also been an active member of a couple of bands, these including German electronic act centrozoon (with whom he released two albums in 2003 and 2004 – for more info, check Tim Bowness' page on Wikipedia, from whence this article got its facts) and British electro-improvisers Darkroom (I guess there may be recordings with him out there, but as the info is lacking I cannot be certain!), on those bands' more vocally-geared performances and music. Bowness is also the lead singer and guitarist for Henry Fool (again, no info found of any existing recordings) and sings in both Memories Of Machines [released their debut album Warm Winter in April 2011, featuring guests such as Robert Fripp, Peter Hammill, Julianna Regan (who'd also been on the Judy Dyble album), and others] and the Anglo-Estonian Jazz band Snow Electric (who released théir self-titled debut album in October 2011). In 2004, Tim Bowness released a debut solo album entitled My Hotel Year, through the One Little Indian label. Among the guests on that album, we find Hugh Hopper and the great Roger Eno.
Besides all these collaborations of a shorter nature, Bowness was also singer and occasional second guitarist for Samuel Smiles between 1992 and 2000, and has a longstanding musical collaboration-ship with Peter Chilvers (with whom he's worked in Samuel Smiles and Henry Fool – and in 2001, along with Pete Morgan, started the online record label Burning Shed). With a sound predominantly based around keyboards (piano mostly, really) and vocals, the project with Chilvers has thus far delivered the 2002 album California, Norfolk (I'm not certain under which moniker, though). But the longstanding collaboration for which Tim Bowness is certainly best known, is that with Porcupine Tree musician Steve Wilson. Started in 1987, No-Man thus far delivered a total of 6 well-received studio albums, a live recording, and a documentary DVD.
And this relationship, in fact, brings me back full-circle, because the material originally written for this album was supposed to be for a new No-Man album. However, what with Bowness' and Wilson's schedules conflicting, Bowness decided to rework them for a second solo album, but retaining many of the No-Man elements on the final album. For instance, Wilson was still the sound mixer and sound board on the project, and the complete No-Man live band (including Wilson) made considerable contributions to the album, which was released in different formats, with the regular CD and vinyl LP featuring the same 8 songs. Of the six songs Bowness wrote originally, two have been relegated to the limited-edition double disc album. Two other songs on the regular album ("Smiler At 50" and "Dancing For You") were co-written with Henry Fool and No-Man live keyboardist Stephen James Bennett, another one ("Waterfoot") resulted from a collaboration with contemporary composer/ arranger Andrew Keeling, and "Songs Of Distant Summers" was co-written with Stuart Laws. Additionally, it should be noted that the album closing "Beaten By Love" had previously appeared on No-Man's 2012 live album Love And Endings.
Helping out on the album (with Bowness himself responsible for all male vocals, additional Mellotron/ keyboards/ drum programming and guitar) were, of course, Steve Wilson (additional drum programming & guitar); Andrew Booker (of No-Man) and Pat Mastelotto (King Crimson) on the drums; Pete Morgan and Colin Edwin sharing bass playing duties; SJ Bennett on assorted keyboards & some extra drum programming; Andrew Keeling on additional acoustic guitar, bass, organ and percussion; the violin ensemble of Charlotte Dowling, Anna Phoebe and Steve Bingham; and the duo of Eliza Legwedina and Matt Ankers bringing backing vocals to the track "Dancing For You".
Expect things which do not deviate very much from No-Man, but with occasional re-directions towards Bowness's more keyboards-geared projects. Guitars on the album are quite simple (therefor also quite melodic) ethereal, and frequently with soft feedback distortion. Generally speaking, the music can be described as a Progressive Soft Rock type. Expect a very soft-spoken lead singer too. Is that his trademark, I wonder?...because, quite frankly, I haven't heard much of this artist, except for what the videos at (http://) timbowness.co.uk (with Childers and Memories Of Machines) reveal. At Bandcamp, material from Regal Worm and centrozoom (both with Bowness) is posted, but I had no time to check that, what with info for so many other new albums having to be collected. So, if the 30-second samples provided by iTunes and Amazon.uk are not enough for you to get an idea about what's on this album, you might check out the artist's page at MySpace or Spotify! I'll tell you one thing: Abandoned Dancehall Dreams was received in the media with some of the best reviews in Bowness' career to date, and not only did it reach a #18 position in the UK Rock charts, but it was also voted #1 in the charts of Prog Magazine's July and August 2014 editions!